Shhh… this wedding has gone silent!
The air was full of love, laughter and a lot of music (setup uniquely), in a friendly and competitive way for Ali & Rachel's wedding! Let me explain… Picture this… Ali and Rachel started their New Jersey wedding like most.  There was a ceremony, followed by lavish cocktail hour, bridal party introductions, a first dance, food, speeches, dancing, etc.  What came next, however, was a surprise to the audience and the icing on the proverbial cake…  The Xplosive team rolled out an LED cart filled with silent disco headphones. The guests were watching in anticipation for what was going to happen next. When the MC, Mike P, introduced the fact that we were about to begin silent disco, the energy in the room was palpable. He explained how the headphones each had three channels, marked by a different LED color on the headphone. Each channel is then hooked up to a different DJ with their own microphone. Dylan Weisman, Jaymie Perez and Justin Titus were the three DJ's battling it out for the guests' attention.  MC Mike P facilitated the fun while watching the dance moves in a virtually silent environment.  We watched the headphones change different colors as guests toggled between the different DJs music. It was so much fun to see the guests enjoying each channel and then trying to bring their friends to the music they were listening to when their favorite jams came on.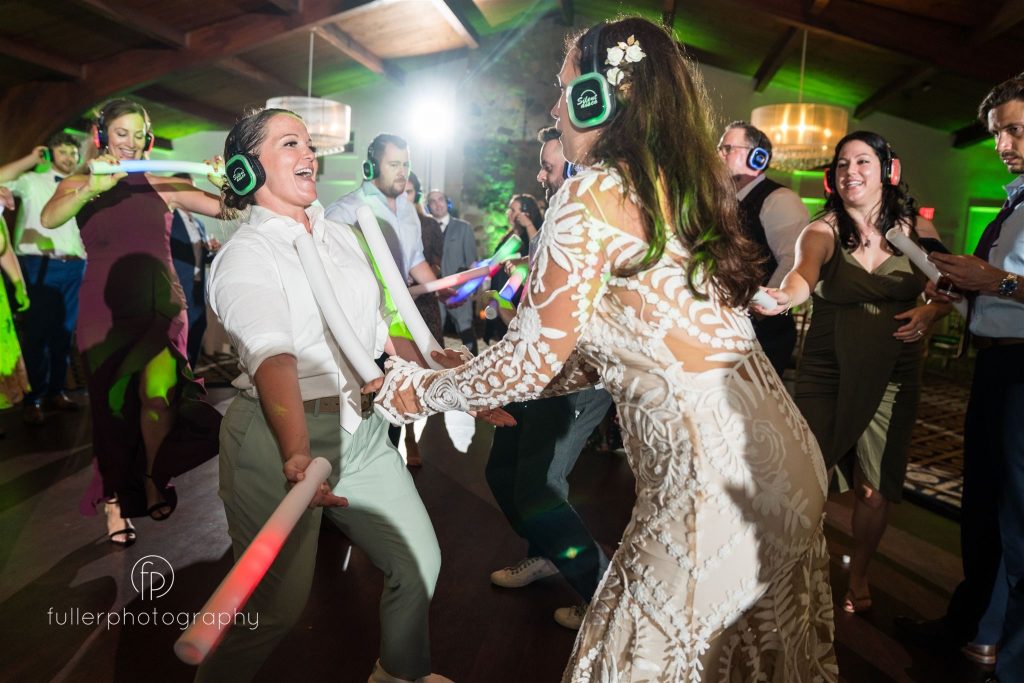 For this particular wedding, the newlyweds wanted a friendly competition and for each channel to have an open format style of music this way all genres were played. Most often, silent disco is setup with each channel (or color) having a specific music genre, for example: the red channel (with matching DJ booth) could be labeled "Latin" or blue labeled EDM, etc.
During the planning process, Ali & Rachel didn't believe that any of their guests would want to stay on one channel with a certain genre being played the entire time. This is a major note for future clients who are interested in silent disco, you must know your crowd and what is going to make them dance and enjoy themselves.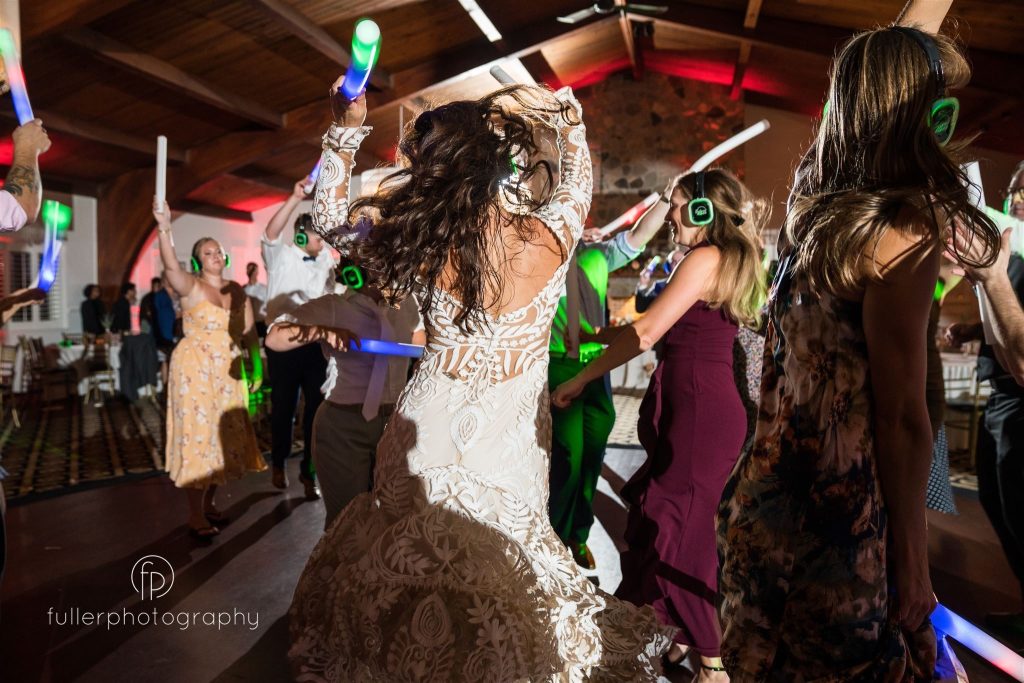 Reasons why silent disco at your next event could be awesome:
Noise ordinances: If you're in a town that doesn't allow music after a certain time but your event ends later than that, this is the perfect opportunity to still keep the energy high and your crowd dancing
Eclectic Demographics: If you have guests coming from around the world and are all different age groups, silent disco can offer different musical choices to keep all your guests happy and enjoying themselves
Lots of kids: if there are a lot of kids at your event, you can play a different soundtrack for them while the adults are listening to more classic genres that they love to hear at events
There are many different ways to piece together the silent disco based on the needs of the event (how many DJs, how many genres, etc) but working closely with a coordinator from the Xplosive team can make all the difference in the success of your event! Give us a call, we'd love to chat with you!
Written By:
Jaymie Perez
DJ | MC | Event Planner – Xplosive Entertainment