NJ & PA's Best & Top Rated DJ Based Wedding Entertainment Company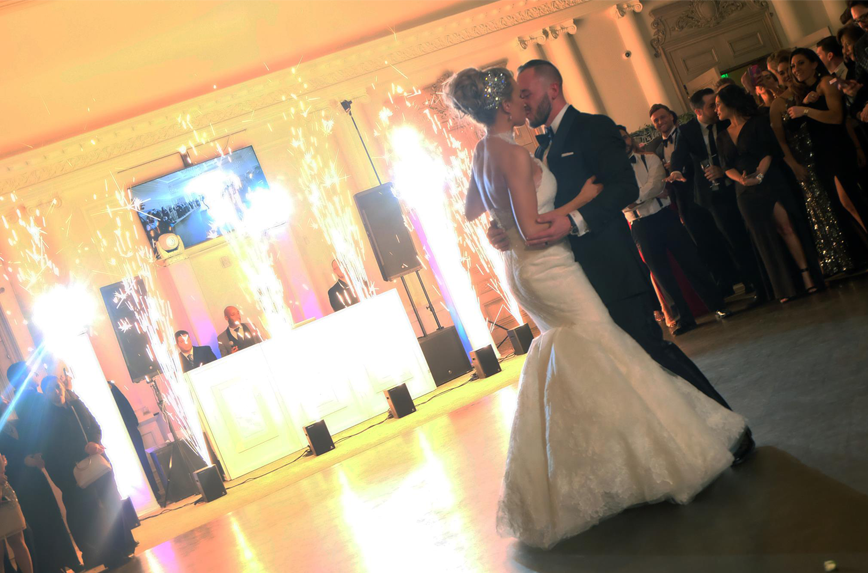 The challenge of planning a wedding is enough to make any bride and groom feel overwhelmed. With so many options and enhancements available, there's tons of details to consider. This is where our boutique inspired event firm comes into the picture. Here at Xplosive, we understand the value and importance of a customized wedding experience, and will structure a personalized celebration that won't be forgotten. Our modern, signature styled approach to DJ based entertainment will ensure any event's authenticity and originality.
Our reviews generally look like this…

From innovative ceremony ideas all the way to a personalized music selections, the team at Xplosive Entertainment will work hand in hand with you to ensure visionary perfection for your big day. In a wedding world where "content is key", our firm takes a creative approach to the entertainment in realizing that each couple is different from the next. Whether you are looking for exciting simplicity or dynamic brilliance, our contemporary wedding design is the perfect match for your celebration.
In constructing an event package with the Xplosive team, there are a few steps already laid out. First, our wedding packages are all based on a two-person team consisting of a charismatic MC and seasoned DJ. Our MCs are versatile and trained to motivate the crowd with excited enthusiasm, or can remain refined and sophisticated for a more traditional event style. Our DJs are prepared with a library of over 75,000 songs in their database. We also incorporate 4 hours of music that spans all generations to make guests of all ages feel included. Our options for event enhancement are specifically designed for each client's requests. We offer around the clock assistance, as well as the ability to speak with your event host the day of your celebration. Lastly, we offer a catalog of elegant and exciting wedding day enhancements. These enhancements include, but are not limited to:
– Live Musicians
– Up lighting and Intelligent Moving Head Lights
– CO2 Blasters, Snow Effects and Dancing on the Clouds
– Fun Food Stations including the latest Donut Wall
– Personalized Audio Productions and Custom Mashups for First Dances
– Modern Photo Booths or Photo Stations with Social Media and Text Capabilities
Please take your time to review our site and see how Xplosive Entertainment can help you build your perfect wedding day celebration!
Wedding Entertainment Comparison
| | Most DJ Companies | Xplosive |
| --- | --- | --- |
| Staff: | Single DJ or DJ with an assistant or "Spinner" | TWO ENTERTAINERS minimum. One DJ and one MC/Host. (Lighting, Photo-booth and other services have separate dedicated technicians). |
| Equipment: | Use of average sound equipment and basic non-controlled lighting effects | Consistent use of well maintained professional grade gear with emergency back up equipment on site. Fully controlled lighting and theatrical effects. |
| Appearance: | Most DJ's setup gear based on simplicity and convenience | Extreme pride taken in trend-setting, elegantly styled setups using unique facade, proper lighting and use of fabric accents. |
| Talent: | DJs are often perceived as either a corny or obnoxious and arrogant | Our TEAM is diverse and offers our clients the ability to pick the right personality for their event. We are stylish, professional, and awarded as industry leaders. |
| Flexibility: | Most DJ's have one step, one style, one approach, one program | We are different. Nothing is cookie cutter. We get to know our clients and build custom packages matching their event vision with creativity and experiences. |
What our couples are have to say
Karen & Tedd
Thank you so much!  Frankie and everyone at Xplosive were absolutely amazing!  My guests still haven't stopped commenting on how great the DJ was.  I will recommend to everyone and keep you in mind when it's my daughter's turn.
For meeting Frankie a week before the wedding, that night I felt like we knew each other forever.  He never missed a beat and had my guests on their feet all night long!  He even gave me the mic and I was singing, it was great.  I can't wait to see the video to appreciate the entire event.
Stephanie & John
I want to write a huge thank you to the entire staff at Xplosive Entertainment for how incredible my wedding was this Friday evening. From the beginning of this process to the very end I could not say enough wonderful things. Jordan was so helpful in putting together a package, Melissa was so helpful and prompt with all questions, Mike gave us so many amazing ideas for our wedding that didn't even have to do with the music, which really made me feel that they cared on a personal level. DJ VJ and the light tech did an amazing job at my wedding and Frankie was so much fun! He kept the party going and I couldn't have been happier. Thanks for everything guys, you made our night! Stephanie & John Peploski
Bob M. (Bride's Father)
Hi Mike, Just wanted to share some comments from the guests at Megan & Adam's wedding on 5/2. The comments ranged from "the music was awesome". The music choices were "seamless & diverse". "Great dance music" to my favorite, which I heard many, many times. "The best DJ … ever"!! Don't want you to get a big head, but it is what it is … fabulous!! Can't thank you enough, Mike, for helping to make Megan & Adam's wedding day magical!! Very Truly Yours, Bob McCabe
Jessica & Domenico
Thanks so much for making our wedding more than we expected. Our guests keep telling us it was the wedding of a lifetime and they had a blast! Mike L thank you for all your work! You and Ringo ROCKED it!
Monica & Pete
Hey Michael + Jordan,
Just wanted to send you both a quick note to tell you again how much fun we had on Friday night! You are both so awesome and we can't say thank you enough for making our Wedding the best night of our lives so far!
Our friends can't stop talking about how much fun they had dancing and how perfect the music was. You guys didn't miss a beat – your ability to get the crowd going and really personalize everything to be about us was so cool. It was like we were partying with you as our friends – not as vendors we hired.
Megan and Jim's Wedding
Mike, I just wanted to thank you guys soooo much! You and Tommy did an amazing job and everyone had a blast. You were awesome at mixing things up and playing to the audience which really kept everyone on the dance floor! That's exactly what we were looking for! Thank you!!! I will definitely recommend you guys to anyone looking for a DJ!
Michele & Jack
Michele and I would like to say thank you from the bottom of our hearts
that you guys were awesome!!!!! I don't know where to begin but from
beginning to the last song was terrific. Your company was totally
professional and so easy to work with. Our special day wouldn't have
been the same without you. So again we thank you so much for everything
and all the special effects that came with our wedding and will
recommend your company to all our friends, family and everyone else in
between.
Thanks again!!!!!
Jack & Michele
Danielle L.
Jordan and Cory MC'd and DJ'd my wedding last Saturday night at the Marlboro Jewish Center in Marlboro, NJ. The night was perfect – thanks largely to Jordan and Cory. They were amazing. They played all our favorite songs and more. Jordan was by far the best MC I have ever seen – he brought tons of energy and personality to the event, but never lost sight of the fact that it was our big day. Jordan continuously brought the spotlight back to my new husband and I and our families. All of our guests agreed that it was a special day and an amazing party thanks to Jordan and Cory. I would highly recommend them for any event, especially a wedding. Thank you!
Kyla and Michael
Everything was wonderful.  You did an AWESOME job with everything.  We can't thank you enough for helping to make our day so wonderful.  The lighting was awesome, the confetti cannons were perfect, and you were GREAT.  You spoke so clearly (which was very important to us) and you did an awesome job with the introductions.  We couldn't be happier with your services.  You're amazing!
Ron C.
Friendly, professional and fun (with "fun" being the most important to me).  Choosing a wedding MC was difficult because a lot of DJ companies can sell the friendly and professional part, however many often aren't skilled enough in the how to "bring the fun."  I've seen Mike P in action before, so once I heard he was available, the difficult because easy.  (I knew he wouldn't fail to bring the fun to my wedding).  The friendly and professional part was second nature to Mike, and the planning and communication was made simple.  His natural talent and expertise made our wedding reception enjoyable for all!
Josie and George M.
Thank you for all your help on our wedding night.  George and I were so happy with your professionalism, attention to detail, and awesome service.  Working with you was a breeze.  You had my entire family dancing all night long.  After speaking to all of my family and friends, all they could say was they have never danced so much at a wedding before!  Thanks to you, we all smile when we think back to our wedding reception.
Natalie & Ralph
"Xplosive did an amazing job at our wedding. A perfect mix of music played to keep the party going all night long. MC'd with with the energy and charisma the guests needed. A big thank you for an unforgettable night!"
Jeff & Nicole
"Xplosive entertainment was the highlight of our wedding. Mike and Jordan made it a day to remember for the rest of our lives. Thank you so much for your awesome work!"
Mike & Marjorie
"Words can't even describe the amazing time Michael and I had at our wedding. Jordan Marshall, Jay Levine and all the Xplosive staff was awesome!! Everyone at our wedding danced all night long! The music was great, Jordan really made the entire night about us we felt so special! The stage setup, plasma TV's and photo booth were a big hit with us and all our guests!! Xplosive you guys Rock!!!! Thank you for making our wedding day the greatest day of our lives!!"
Tom & Jamie
"I just want to thank you guys for my amazing wedding. Anyone that says you guys are good, is wrong. Exceptional is more the word. Michael Langsner and Jay were phenomenal. I've worked with a lot of DJ's, Emcee's and Entertainment companies in my line of work, and I can proudly say I hired the best to entertain our guest on our most special day. Professional, Entertaining and Top Notch. Simply the best. Thank you guys!!!!"
Tiffany & Mike
"Thank you Jordan for everything. We couldn't have our wedding without you! You and Corey made our wedding one to remember. We love you so much and cannot thank you enough."
Tara & Pete
"Just watched my Wedding Video… and wanted to THANK YOU guys again for doing an AMAZING job! All I wanted was GOOD MUSIC and NON-STOP DANCING and you both made that happen! 3/4 of the video is filled with everyone dancing and I love every second of it!"