NJ's Top Sweet 16 Entertainment Company | Xplosive Entertainment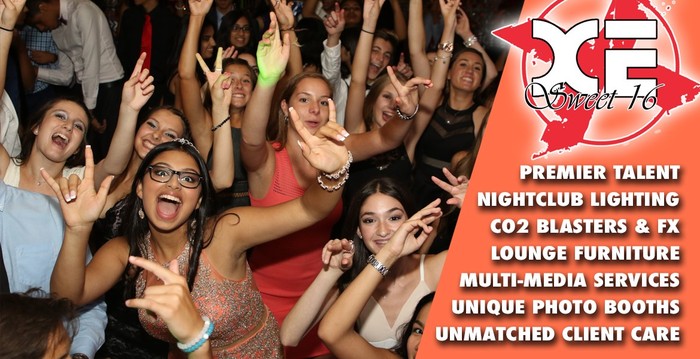 Be Xplosive.  It's a Lifestyle!
Ignite your SWEET 16 celebration with the area's top MC, DJ, and Dancer Talent
Nothing Corny, Nothing Cheesy, Just Pure Talent!
Our DJs spin at the hottest clubs.
Our MCs have swag, style, and charisma (and good looks, of course).
Our dancers are the best in the biz!
Your Sweet 16 will… IMPRESS!
Hear what our clients are saying...
Mia's sweet 16
We can't say enough about the Xplosive Entertainment team, and the amazing party you made happen last night.  Paul was incredible as MC, and got everyone up so that the dance floor was full the whole night!  Mia and I had no clue what to do during the candle lighting ceremony and he gave us great instructions how we were supposed to do it!  Lol  Joey was phenomenal…I truly can't say enough about him.  Knew the crowd…knew what music to play…and he was a professional in every sense.  The lighting was beautiful…the room looked exactly like I imagined!  Zap and the photo booth guys also did an amazing job!
Nikki's Sweet 16
Xplosive was amazing & everyone at the party was talking about what a wonderful job all of you did!
Elizabeth's Sweet 16
Hello Guys,
I just wanted to shoot you guys an email and tell you how great everything was last night and that we really enjoyed Xplosive for the event. When booking a DJ company we were back and forth between companies and we were shopping around. We all were very happy with the choice we made by going with you guys! Great Job!
Natalie's Sweet 16
We all had a blast! Your professionalism and attention to detail made the night perfect. Dan was great with the kids and he kept the energy up, as did your choice of music. The flow of the evening was perfectly timed and all the added features were icing on the cake – thanks for that. I can't thank you and Dan enough. Natalie received tweets all day today from her friends about what a great time they had. She'll be riding this high for quite some time!
Bianca's Sweet 16
Hi Jordan!
You are the best DJ ever. Thank you soooo much for making my daughters day so so special! Your girls are number uno in my book. What energy! What respect! With all my guest young and old! They really made Bianca's party, kiss and hugs for them from Bianca and I. The bubble boy was so sweet and caring and professional. The green screen guys where so sweet and professional as well…..WOW I really want to thank you Jordan and all your staff AMAZING THANK YOU!!!!
VICKY……………………
Karen R.
"Right from the beginning of the whole selection process, I was totally impressed! First, Mike P. professionally and patiently guided us through every step to help us decide who to have as our MC and our DJ. He was very insightful and accommodating, answering every question we had to organize the perfect party. Thanks to Mike P., we were introduced to Dan Bando, our MC, who was absolutely amazing! Prior to the party, Dan spoke with us at length about our preferences for the progression of activities and our daughter's musical selections. He so clearly articulated what works best at Sweet Sixteen parties that we felt confident in his ability to get the party rocking! Indeed, we were quite pleased to discover that this mild–mannered, handsome young man had boundless and infectious energy! He had all our guests up on their feet dancing all night long! My daughter's friends have not stopped talking about him! He made Vanessa feel extraordinarily special as he made her the center of attraction all night long!"
Renee R.
"I just wanted to write and thank you for helping to create a great night this past Saturday.  I think it was everything that Katherine had hoped for.  You and Mike really delivered on the music and on getting the kids up and dancing.  (As you said they would, the girls loved Mike!).  The feedback has been terrific and I think everyone there had a fun.  I only wish my girl had allowed me out of the back room so I could have danced."