The hardest clients to make happy, so often are those in the event industry.  Rightfully so, these professionals have high standards; they've seen it all.  We at Xplosive Entertainment are honored to be selected by many event professionals to help their own families celebrate milestones.
On June 13th, 2021 Xplosive Entertainment had the honor to work with the Weintraub family (for the second time) as they celebrated Logan's Bar Mitzvah.  Jeanne, Logan's Mom, is an event planner for a major global organization.  She has seen, planned and been a guest at some of the most lavish events ever.  But this event was different.  She was planning a party for her own son.  It's also very different when spending your own money vs. the budget allocated from a global business leader.  Roughly four years prior, Logan's sister Sydney celebrated her bat mitzvah and Xplosive proudly entertained as well.  Sydney's bat mitzvah certainly fell within the top 10 events ever produced by Xplosive.  It was at the magnificent Jasna Polana Country Club in Princeton, NJ.
There were several obstacles that needed to be solved for Logan.  First off… how do you make a "boys' sports themed party" fancy?  Second, how can you exceed the over the top execution for sister Sydney?  And thirdly… due to Covid restrictions, how do you navigate date and venue changes leaving you with the best option to celebrate in your back yard?
Fortunately, the Weintraub family has a beautiful and spacious yard.  Even more fortunately, they certainly know how to party!
Jeanne called upon some of her favorite vendors.  As a combined army, we all worked together and produced a celebration for a king!  There were multiple planners/decorators who worked together on this.  These include:
Next comes the 120 foot long tent that came from Larry DeRosa of Aviance Lounge.  Aviance also provided some of the kid's games and the generator necessary to power the tent's lighting, the bathroom trailer and the DJ equipment/effects.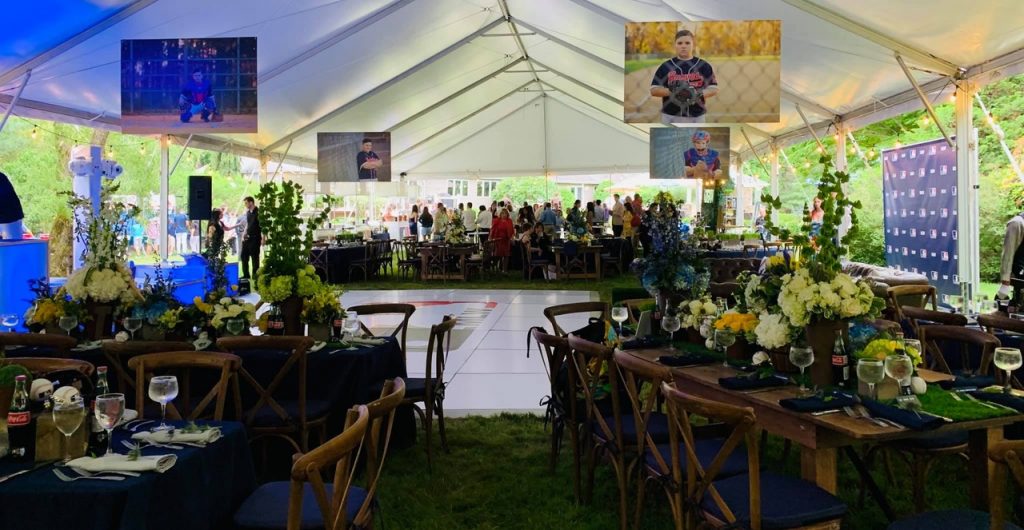 Since this is an Xplosive blog, let's focus on the entertainment for a moment.  Within this incredibly decorated baseball themed tent, MC Jordan Marshall narrated the grand entrance with a high energy sports commentator starting line-up flair.  These introductions were paired with cold spark fountains giving a pyro-technic blast.  The lights and confetti were met by Jordan's opening announcement while the 200 guests whipped red custom imprinted rally towels over their heads.  One cannot forget to mention the live human statues who greeted the guests and adorned the dance floor.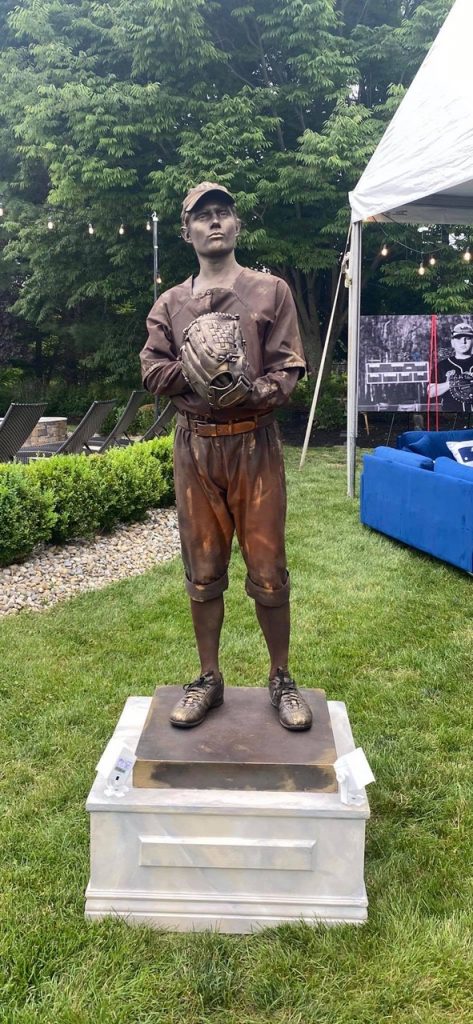 The next four hours were a blur.  Nonstop energy, dancing, drinking, flashing lights, pyro effects, etc defined the night.  Logan was truly the star of the show.  Yet, mom, dad and Sydney were along his side rocking the dance floor all night long.
The catering was provided by Classical Caterers. The food was exceptional and setup in beautifully built custom sports kiosks giving a stadium feel while keeping mom's elegant look.
The magic all came together and the night was one for the record books. A few "tips" to note… it was very important for all vendors to work together.  A thoroughly thought out plan was made to ensure setup logistics were effective and efficient.  Maximizing the size of the tent was key here!  We've seen many events this season with tents that were cramped inside.   This was not the case for Logan.  Every element of the party fit brilliantly under the covering (in the event of unfortunate rain which luckily didn't happen).  Having a rock star family who immerses themselves in the fun makes all the difference.   We often tell host families to "lead by example" if you are on the dance floor, your guests will be too!  This was the perfect example.
Blog written by Xplosive Entertainment Vice President, Michael Langsner