Typically, our blogs are written to help clients planning special events within the borders of the US. From time to time, we are lucky enough to have the honor of performing at events outside of the USA at some beautiful destinations. Earlier this month, we took our talents to the Caribbean for a wedding in stunning Aruba.
To help me write this blog, I've enlisted the help of Bridgitt, the Bride, for more insider knowledge. This blog is written in a Q&A form.  If you have further questions, we always love hearing from you and are happy to dive deeper on this topic.
Q: How many days were you at Aruba before and after the wedding date?  Did you have any scheduled activities for guests besides the wedding day?
A: I arrived four days before the wedding. This gave me the opportunity to check-in, get acclimated and relax before the arrival of our nearly 80 guests.  The night before the wedding had a scheduled ceremony rehearsal and rehearsal dinner for the bridal party and family.  The night prior, we had scheduled a "white party" which doubled as a welcome reception for our guests to get to meet each other and for us to distribute our welcome bags.  The wedding night was on a Friday.  Saturday was a great day to relax with our friends.  Sunday most guests left.  Finally my husband and I left Aruba on Monday, after enjoying two full days as a married couple at this tropical paradise.  It was good we had these extra days before to close up any loose ends and get to relax without the stress of the upcoming wedding.
Q: A top concern for most destination bride's, is how are you getting your dress to the location without your future husband seeing it and of course, while ensuring it does not get damaged or lost?
A: Having the proper garment bag that is durable and NOT see-through is imperative to protect the gown. I made sure to hold it the entire time in the airport, never letting it out of my sight. The only time it was removed from my possession was through TSA. I arrived to the airport extra early and spoke to the TSA agents and let them know what is going on. As long as you're super friendly and show concern, they will usually help you. Then once I got to the gate, I informed the agents there. Again, kindness and punctuality came into play here, the lady was nice enough to let me board the flight first and have a secure location for the gown in their closets on the plane. Keep in mind, depending on the airline, others wedding guests may not be able to stow their garments in there as well. The gown takes precedence though.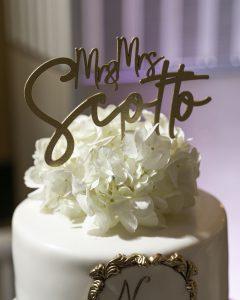 Q: Is it hard to put your trust into vendors from another country that you haven't met in person?
A: The short answer is yes, it's hard, but if you make your vision and expectation clear and ask for a FaceTime or Zoom to review details, that definitely helps. The best advice here I can give is just be INCREDIBLY detailed, keep everything in writing and have a binder with printed copies of receipts, contracts, notes, details… literally everything. Realistically, you should be doing this regardless if your wedding is local or destination, in my opinion.
Q: Did you have any vendors from the US?
A: Yes, we brought Kate Anderson, from Simply Sapphire Events. She was my "day-of" coordinator and she was the best decision that we made in terms of the entire planning process. She flew out a few days early and was there for my welcome party, rehearsal dinner and of course, the wedding. Even if you are local – I would 100% recommend a "day-of" coordinator to
help ease and shield from the stresses that naturally come with big events.  She kept me calm, handled anything that was thrown her way and made sure that my husband and I enjoyed every moment. I can't remember a time during the day that I was stressed because she would fix the issues before they were even brought to my attention. I also brought elements from Xplosive entertainment handle the bulk of the entertainment onsite.
Q: Where there any vendors fees you had to pay in order to bring in outside vendors?
A: Every country and every resort has different standards and practices when it comes to outside vendor fees. Aruba, didn't charge me anything (I know other islands, where the actual country charges the fees). However, the venue did charge me for any vendor that wasn't through the property. I paid a fee for use of an unaffiliated  photo/video team and extra enhancements (plates, seating chart, sparks). The fee I paid was $500 per vendor. When you're having a local wedding, you will typically do not see these types of fees. Rather than paying another vendor fee for the entertainment (plus production), I let the venue handle the production and supply the DJ. I had Mike Langsner, from Xplosive Entertainment, a trusted friend, handle all the MC work and formalities. I was most nervous about the MC and DJ not having synergies since they never worked together, but this went over very well. And, the DJ from Aruba who I selected, stuck my list of must plays and he did a good job.
Q: Is there anything you didn't think would be an issue, but was?
A: Absolutely. There are different laws and regulations in each country. I wanted to have rose petals thrown during the ceremony but the venue said it was only allowed if they were real petals. Since I wasn't able to fly with them and I didn't want to pay the vendor fee on top of the cost of the flowers, I just decided to nix the idea. We also weren't allowed to do a lantern release. Was it the biggest deal in the world, probably not, but doing your due diligence to figure these things out ahead of time is always recommended.
Q: Is a food tasting necessary?
A: YES. I can not stress this enough. One of the most important pieces of a wedding (besides your entertainment) is the food. We had visited the venue the year prior and had requested a food tasting. We were told the chefs would be different and a food tasting was not possible so I let it slide and put my trust and faith into this and I wish I didn't because the food was subpar. If I had the chance to try it, I would have been able to tell them that the food is unacceptable. So if food is on the top of your list, either pay top dollar to get an outside caterer with an amazing reputation or stay local.  While you shouldn't have to micro manage this aspect, it may be important to consider how the food will be served (I.e. buffet, stations, plated, family style, etc).
Q: Any final tips or advice for our future destination brides?
A: Honestly this goes for local or destination weddings – do not go in thinking everything will be perfect. With so many moving parts, it is natural for there to be a stumble somewhere in the mix. With destination weddings though, I should have told myself this early, but just BREATHE and relax. Events are SO different in comparison to how we run them in the metropolitan area. We are very fast-paced here and have a sense of urgency to get things done. "Island Time" is a REAL thing – even when my bridal party came in to the reception space and starting fixing things or pointing out things that needed to be fixed, they were just incredibly slow to move.
We could stay on this topic for a long time but for the sake of this blog, we will cut it here. As mentioned before, we would love to dive deeper into this topic with you! Feel free to give us a call at the office and let's plan your wedding!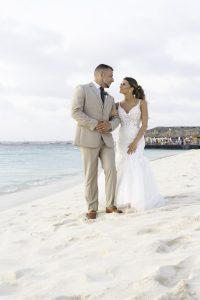 Written By: Jaymie Perez & Bridgitt Scotto