After entertaining and managing upscale and lavish tented back yard parties, the last three weekends in a row, here is a list of the seven top considerations when planning a back yard event. (note, these concepts remain the same when planning a wedding, bar/bat mitzvah, company event, etc).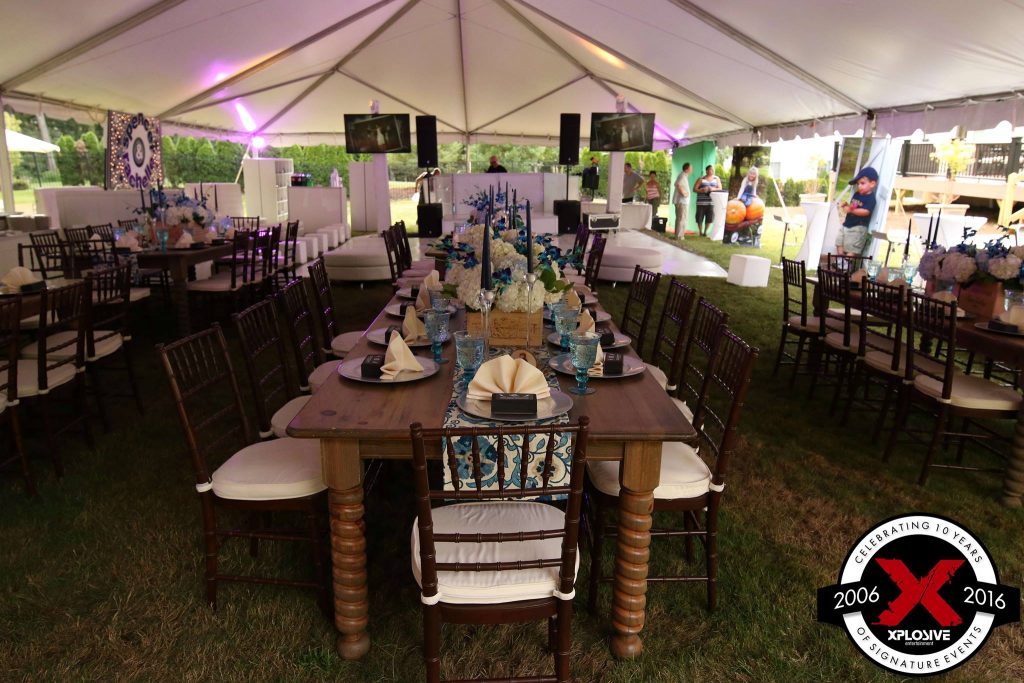 1. Hope for great weather, but be sure to have solid back up plans in place. Consider not only the obvious: rain and temperature, but the effects of wind (on your décor), soggy grassy from rain days prior, humidity, bugs, etc. If your backup plan means moving inside, do you have enough space to accommodate the event comfortably? If the back up plan simply means adding tent sides, consider traffic to and from the tent as well as the green house effect of the enclosed sides and body heat with limited ventilation.
2. Bathrooms. If you do not want to 100+ guests trekking into your home to each use the facilities a bathroom rental is a must. (Keep in mind that every guest will use the bathroom at least one time. That means 100+ flushes. Soap, toilet paper, air freshener, etc. all need to be plentiful. Be prepared with a plunger. Realistically, one bathroom really wont cut it for a party of this size. Standard port-a-potties rentals are inexpensive and readily available, yet considered gross and repulsive to most (especially on a hot humid day). Now-a-days, bathrooms can be delivered aboard a trailer complete with air conditioning, running water, and even everyone's favorite Dyson styled high powered hand dryers.
3. Multiple day setups. If your party is taking place on a Saturday, it's likely the tent will be delivered on Wednesday or Thursday. The next day your furniture and decor may arrive. Then finally the day of, your Entertainment and catering will arrive to a pre-set space. Breakdown will also take place over the next few days… so ensure that your property is ready for a few days of traffic. (And be sure to turn your sprinklers off so no damage happens to the efforts put forth under the tent).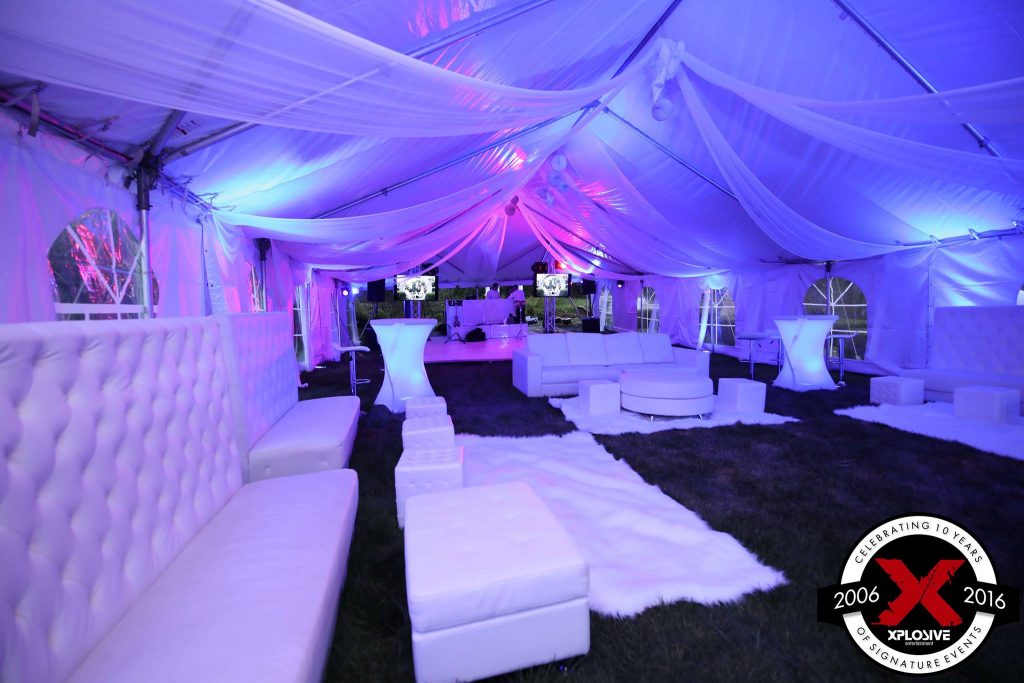 4. Clean up. Not only do you need to consider cleaning the property to ready the yard for your guests, but consider a cleaning crew post party to pick up all the cups, napkins, party favors, lemon slices, etc. that can be found all around the property. Also be sure (in advance) to determine how trash will be collected and disposed of. (Does the caterer need to take trash back to his office, or can he leave behind 8-10 big full and heavy black trash bags). Even the neatest and most polite 100+ guests will yield an incredible amount of rubbish.
5. Parking. Where are all the cars going to park? Figure one vehicle to every 2.5 guests invited. So 100 guests means 40 cars. Then add staff vehicles and trucks (which can account for another 15 vehicles or so). Valet may be needed and should certainly be called upon to first come and scout the options before the day of the celebration. A Shuttle or car service to drop off and pick up guests may be of consideration to help limit the number of vehicles and reduce drinking and driving risks.
6. Liability. It's inevitable that something will break. It can be a piece of furniture that breaks, landscaping can be damaged, or someone may even knock over your mailbox with a work truck during setup (this actually happened two weeks ago at a gig of ours). In planning your event, you must weigh the risks of having innocently caused damages to your home. (Liability also comes in the form of drinking and driving, underage alcohol consumption and respect for all
Your neighbors). Be prepared. You may even want to consider event insurance. For approximately $100 you can get a one day insurance policy to cover your home and family in the case of severe incident. Another consideration within the liability category is a suggestion to hire security to watch over kids and ensure they are kept contained on premise and not left to roam the neighborhood.
7. Electricity. Things like tent, dance floor, and ambient lighting, cooking equipment, rented bathrooms, entertainment, photo stations, etc. all require power. Most often the electric service in a house isn't strong enough or offer enough convenient outlets to support all the needs of your event setup. (Keep in mind required lighting on walkways and parking areas). A high power generator is often the best solution to providing dedicated and clean powder for your event needs. There is nothing worse than losing power at an event and searching in the dark for the tripped breaker or pulled extension cord.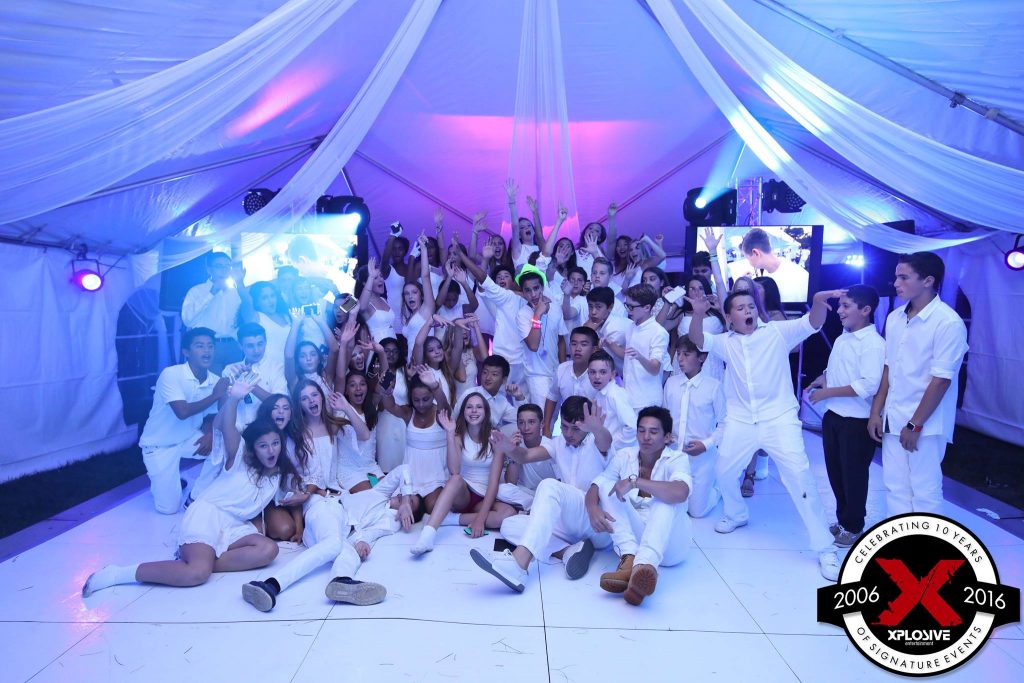 In summary, at home parties can be great. However, they are often first considered as a cost savings measure compared to renting a venue. This usually proves to be incorrect. By the time all of the above seven items are considered, costs can easily rise above a venue that was built to accommodate events. When the costs are not the factor and you are planning a party at home because you have the space, love to entertain, and are looking for "something different" then please consider the above details and most importantly, hire professionals with adequate experience in off-site events. Just because a DJ or caterer has earned the title of their career, doesn't mean they understand the challenges that come along with an "at home" event.
Michael Langsner
Xplosive Entertainment
732-866-1620
www.XEevents.com