As 2019 comes to a chilly end here on the east coast, I wanted to highlight some of the trends we've been seeing at 2019 weddings. In no particular order, here is the list with professional tip or comment with each trend.
Rustic/Barn/Farm weddings: Rustic is in! Strangely people go through great lengths and spend big bucks making things look old, worn, and beat-up, but rustic is in!
Pro Tip: Make sure your venue can accommodate your guest count and offers alternative options to combat the unpredictable climate concerns. A barn is great for photos but if selecting a barn comes with a lack of AC, heat, or ample space, I'd suggest rethinking your decision.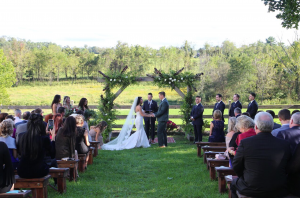 No garter removal or bouquet toss! We are seeing roughly 50% of couples toss the bouquet and possibly less than 20% do the garter removal/placement.
Pro Tip: These dated traditions often interrupt the flow of a fun, high energy party. If you want to do either of these items, first analyze your expected audience. Ask yourself, "are there enough single ladies." And, "Will there be kids or teens who may awkwardly catch a bouquet?"
Sparkular/Cold Spark Fountains: Indoor and safe "pyrotechnic styled" effects have become a huge rage in the last year or two. The cost to purchase these machines has declined, so we see many more companies offering this service. The effect is simply stunning for your photos and incredibly impactful for guests attending the celebration.
Pro Tip: Check with your venue first to ensure they allow this service. While this item has been proven to be safe, its technology is still new and some cities or venues do not allow it.
Sparkler Send Off: At some point recently this trend grew. You have to wonder though, who thought handing 50-100 drunk guests a blazing hot spark spewing metal stick was a good idea?
Pro Tip: The process to setup a sparkler send off with a large group of guests is very cumbersome. It take a fair amount of time to orchestrate. The end result is generally one incredible photo, but evaluate the importance of this one photo vs either interrupting the last hour of the party, or possibility ending 10-15 minutes early to capture this image and still have guests exit the venue at your contracted time. If you insist on a sparkler send off, consider only involving the bridal party or immediate family.
Private Last Dance: We saw this a few times this year, and we talked a few couples out of this. The concept sounds great, but the reality of making this moment happen is really difficult. The concept is one last dance to be shared with no-body in the room. Just the bride and groom. The tricky part, however is now you are kicking your guests out early, or ignoring them as they try to say goodbye and wish you well.
Pro Tip: Don't do it!
Silly bridal party introductions: This is nothing new, but certainly a trend I wish would go away. Some take this too far. And often, there is nothing new or exciting. But, for some reason, nearly every wedding is riddled with the bridal party coming up with a silly introduction idea as the MC introduces each group into the room. From the sunglasses indoors, to the toss of the bouquet resembling a football play, there really isn't anything funny about these corny intros.
Pro Tip: If you are in a bridal party and planning one of these moments, think about it in advance. Maybe bring props like masks or custom printed signage.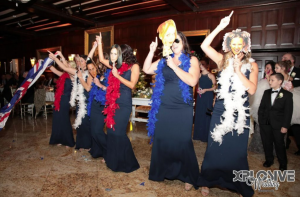 Photo Booths: This is nothing new… photo booths are common if not expected these days. What's changed though variety of photo booths. Roaming photo stations are the hottest new offering.
Pro tip: Do your homework and know the quality of what you are getting. Also find out what you are getting with the photo booth. Prints, texts, scrap book, props, etc.