When it comes to throwing a killer house party, most people already understand the essentials—food, drinks, a solid playlist, and plenty of places to lounge. But, it's easy for these kinds of events to become expensive, especially as the details fall into place. We at Xplosive Entertainment have put together this helpful guide to help you navigate costs for your next soirée.
Please note that many of these items are listed within an approximated price range. Considerations like the day of the week, time of year, load-in, logistics, and travel all affect costs of services differently.
Additionally, quality is one of the top determining factors of cost. As an example, basic folding chairs rent for far less than formal, elegant chavari styled chairs with padding. Or, platters of vegetables and pasta are far more cost effective than platters of fresh meat or fish.
Item #1: Entertainment and Sound System
Price Range: $750+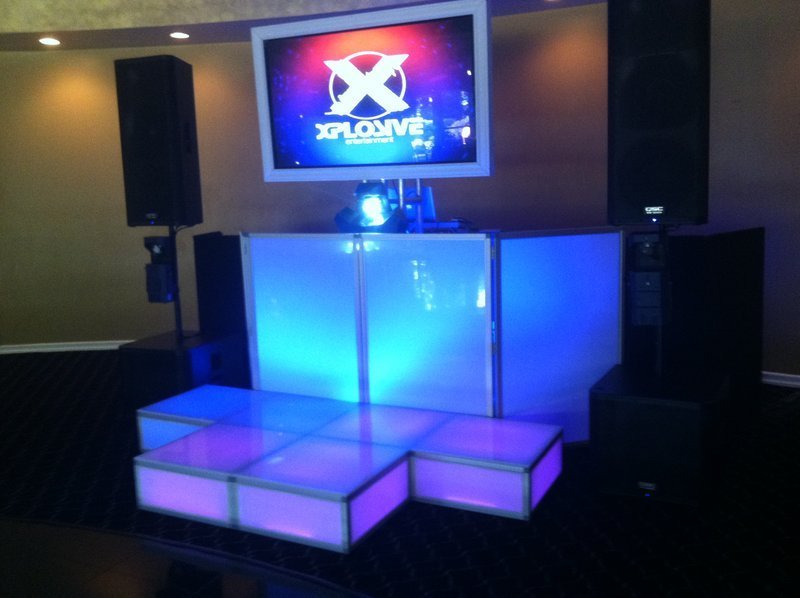 DJ services range a wide spectrum. On average, New Jersey and New York markets' most reputable DJs start around $750 for a basic "one-man" show. That price tends to cover a DJ with a basic setup for approximately 3-5 hours of music. Weddings, Bar and Bat Mitzvahs, Sweet 16s, and other more formal events often demand far more than a single entertainer. More formal events also require detailed planning, additional staff, larger setups, and more labor overall. These events typically start in the range of $1500-$3000 and can easily increase based on the event's combination of services.
Item #1.5: Dance Floor
Price Range: $1500 – $3000
While many venues provide a spacious dance floor, houses and backyards are not often equipped with them. A dance floor rental may be necessary depending on the scale and caliber of your event. Factors such as the ground below, the logistical load in/out, etc. play into the pricing of a dance floor as well.
Item #2: Lighting
Price Range: $500 – $2500 (depending on intricacy)
Though lighting is a crucial atmospheric effect for any party, most people overlook it or forget to budget for it while planning. It's important to remember the impact of solid mood lighting at any event. A simple color scheme or strobe effect can affect an entire party's energy for better or for worse. Our advice–don't skimp.
Item #3: Catering
Price Range: $35 – $95 per guest + gratuity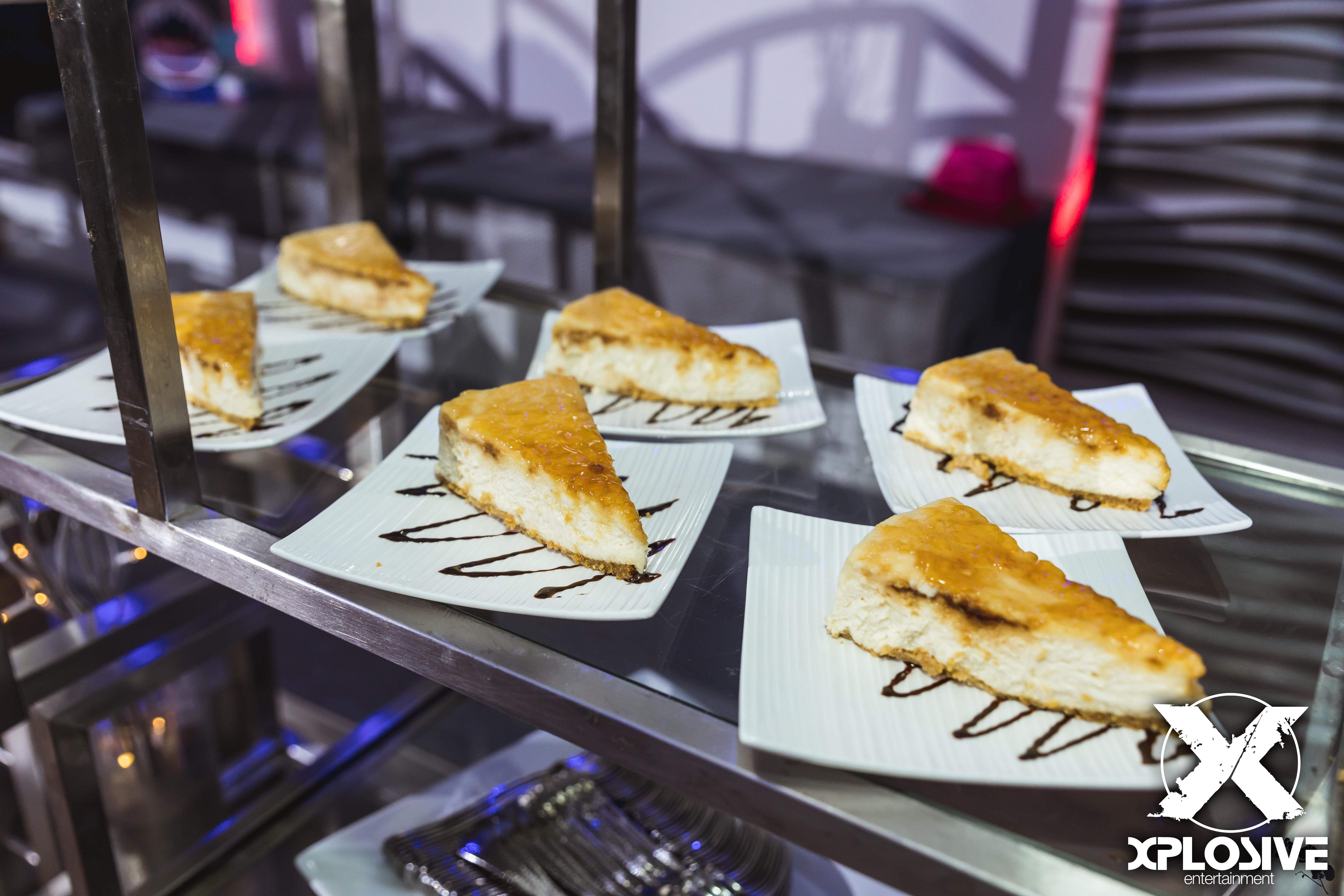 A party is only as good as its food, and catering is often the best way to go. Costs for catering typically go by number of guests and vary based on food selection. Costs almost always include flatware, plates, cups, and other supplies as well. Ironically, disposable supplies will often cost more than real china or silver.
When it comes to bar service, it's usual best to provide your own drinks. Bartending services will cost an additional $250 – $350 on average. Mixers and sodas are often included with regular catering, however, and only cost approximately $5 per guest.
Item #4: Decoration
Price Range: $500 – $8000+ (depending on level of details and florals)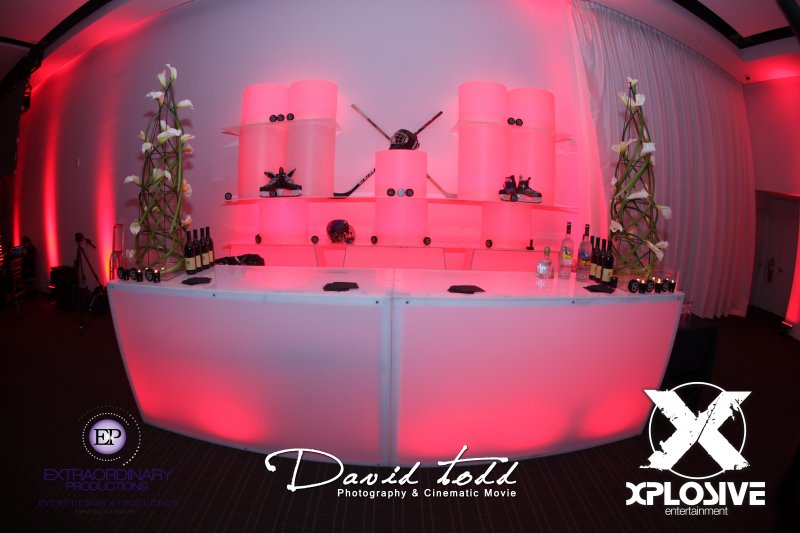 Theme and décor can turn a party from ordinary to extraordinary. The possibilities for them are also virtually endless. For as low as $500, you can bring your party vision to life with banners, posters, bouquets, centerpieces, place cards, favors, and more. Costs go up with the amount of detail, but it's often worth it to go the extra mile. Rentals versus one-time-use purchases should also be considered when regarding your budget. A helpful tip—fresh flowers drive up the price of decorations. Consider this when crafting your center pieces and event accents.
Item #5: Furniture
Price Range: See Below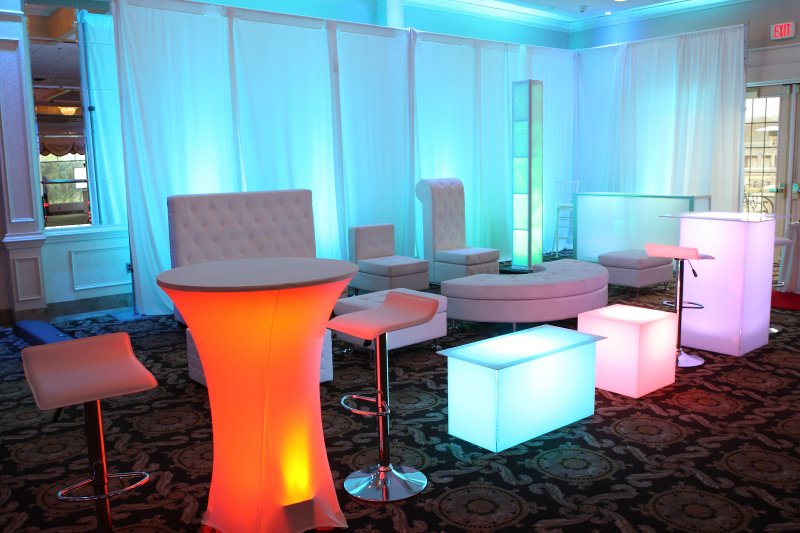 Last but not least, there's a lot to consider when choosing the furniture for your event. Seats and tables are necessities that can really break a budget if booked carelessly. Standard table rentals average $8 – $12 each, and basic folding chairs cost as little as $2 – $4 per piece. Furniture linens can increase costs by $15+ per item. If you have a more generous budget, formal lounge furniture is also available for rent through most event firms. More modern and elegant furniture options like the tufted leather and illumined lounge options shown above can rent for approximately $100 per piece.
We hope this list helps you to better understand the expected costs of an upscale house or backyard party. Need some additional help? Give us a call or visit our website for more information on how to plan your perfect party. We're happy to accommodate any needs you bring to the table!
This blog was written by Xplosive Entertainment, a boutique inspired signature style event firm based in Manalapan, New Jersey. Xplosive has been a leader in the private event industry for since 2006. Call today or visit our website for more information.