While a sentimental staple of many mitzvahs, candle lighting ceremonies pose several risks to the success of your party. It might be too long, too boring, or worse, too uncomfortable for some guests. With a limited number of candles to dedicate, it's dangerously easy to leave out a loved one, forget a friend, or hurt somebody's feelings. It's also a time consuming affair between walking up from your table, hugging the guest of honor, posing for pictures, and lighting the actual candle. Multiply the routine by thirteen or more, and you can easily spend a half an hour of your party on candles alone. This gives guests a chance to stop paying attention and start checking their phones during what's supposed to be a momentous occasion.
So, how do you keep your candle lighting ceremony fresh and engaging? Here's a few tips from us at Xplosive Entertainment.
MUSIC
The easiest and most important method of engaging your guests is through music. It's also the most powerful tool in your arsenal when it comes to personalizing each candle dedication. When selecting a song for your dedicatees, avoid overplayed, outdated, or cliché tunes. Trust us, there are far better choices out there than 'Through The Years' and 'We Are Family' that aren't being played out at every other mitzvah.
Instead, aim to honor and impress each guest with a song truly unique to your relationship. Do you share a favorite artist or genre of music? Do they have a go-to karaoke song? Or, is there a track linked to a particular memory you have with this person? Take some time to really think these song choices through, and don't be afraid to get creative. Your extra effort will wow each dedicatee while keeping the rest of your guests interested with an unexpected, personally curated playlist.
Having trouble coming up with tracks? Check out Xplosive's suggested list: https://www.xeevents.com/wp-content/uploads/2018/11/Candle-Lighting-Song-Suggestions-1.pdf
DISPLAY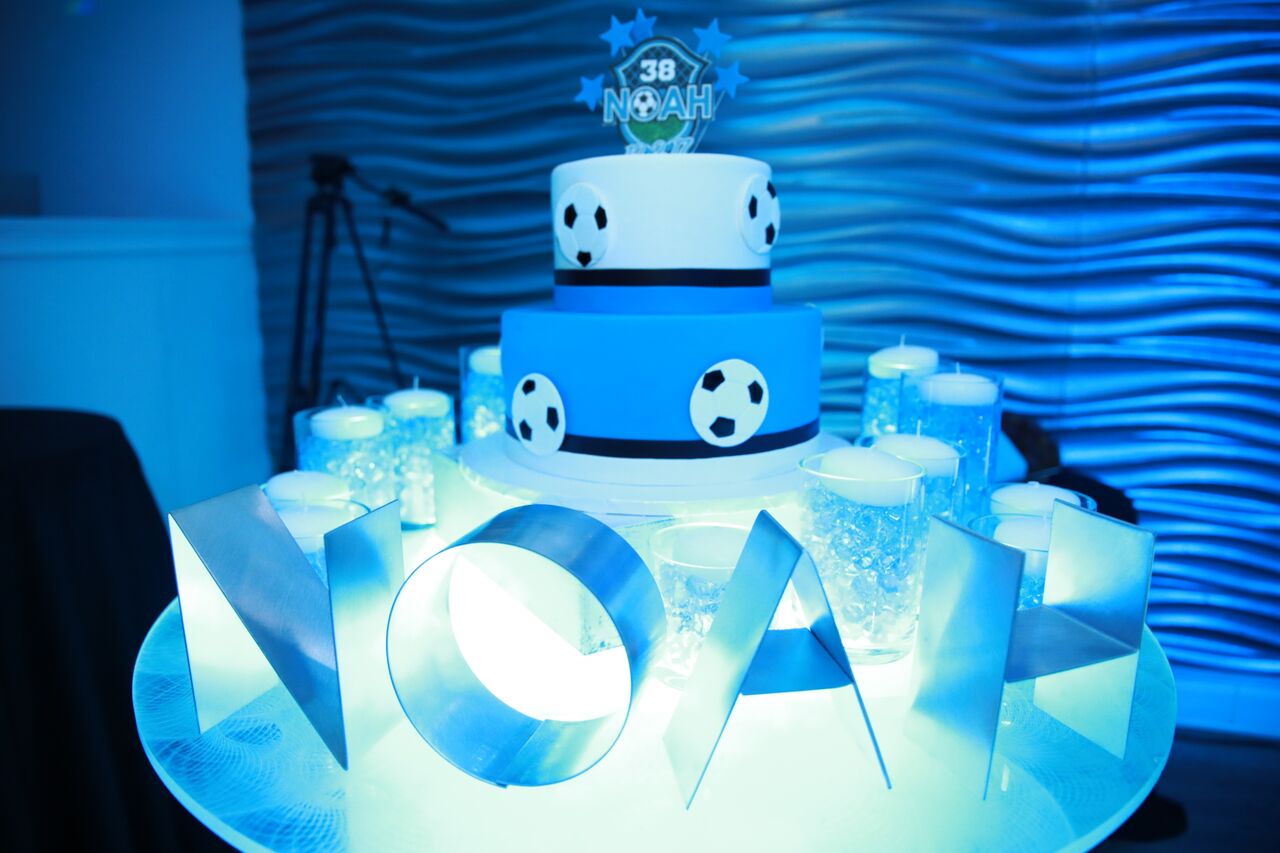 The possibilities are endless when it comes to displaying your candles. Stave your guests' disinterest by getting creative with something colorful, personalized, and visually appealing. To start, your teen's name or initials makes for the perfect centerpiece in big, bold letters. Consider unique alternatives to candle sticks, too, like colored vases, statuettes, custom cutouts, or even edible treats (like cupcakes). Your theme, interests, and budget all influence the kind of display you'll have, and will ensure a setup that's anything but ordinary. Check out some Xplosive examples below!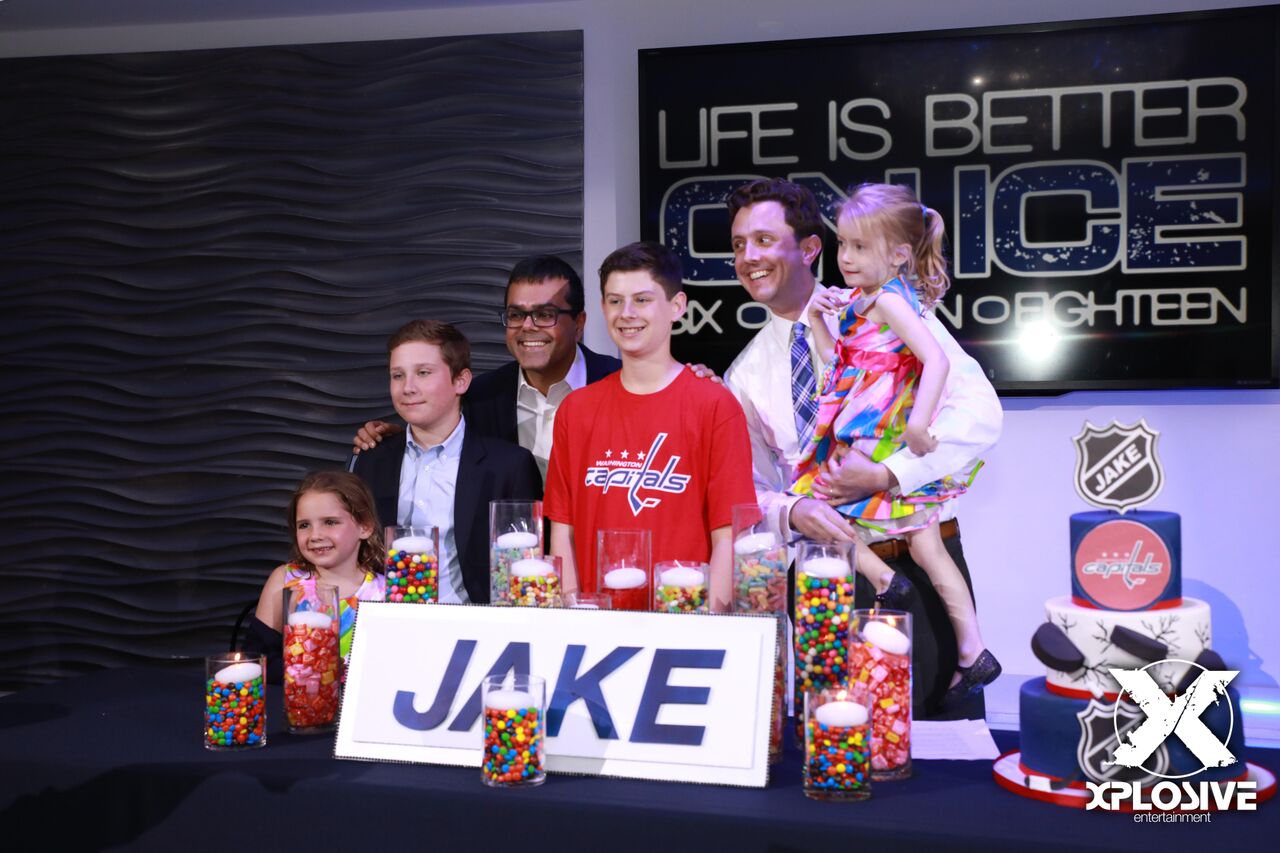 Candy candles at Jake's bar mitzvah.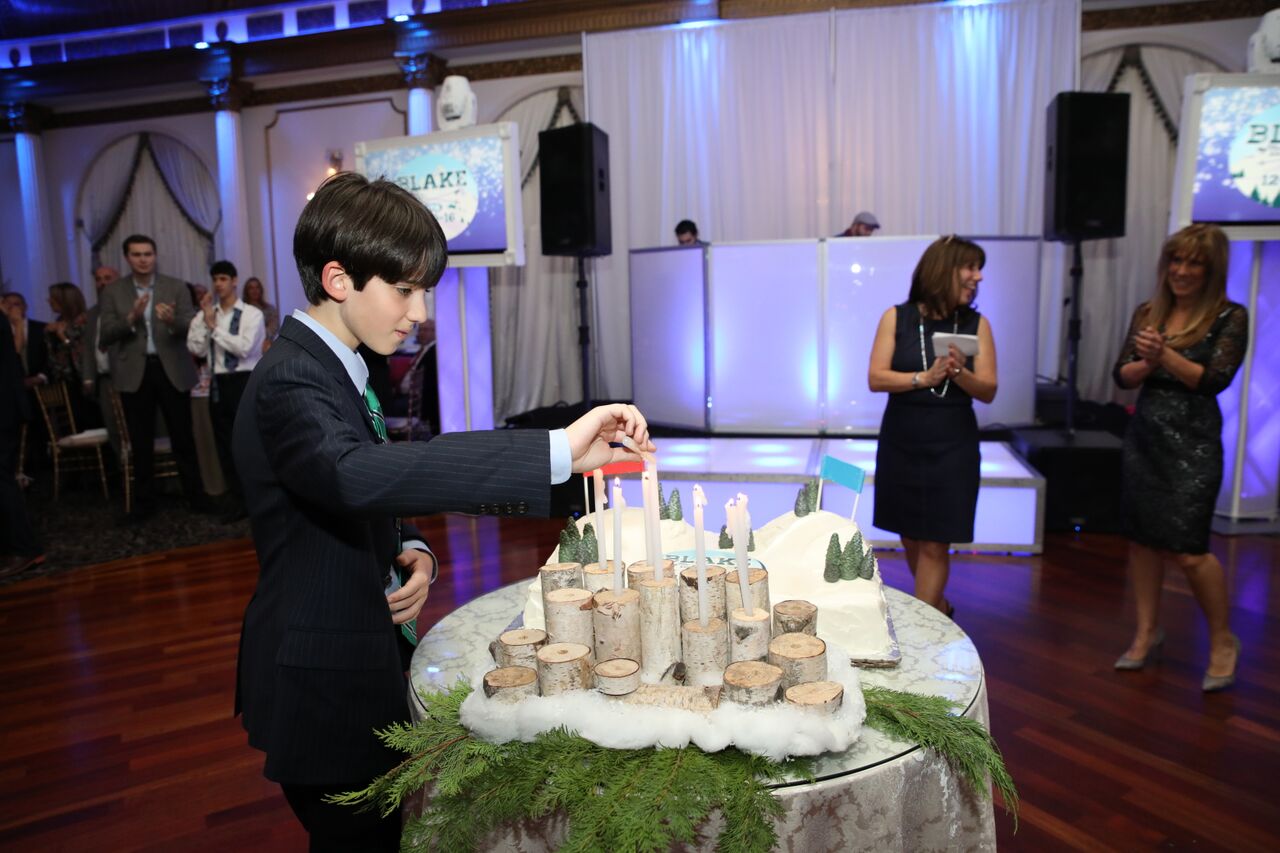 Log candle holders at Blake's ski lodge themed mitzvah.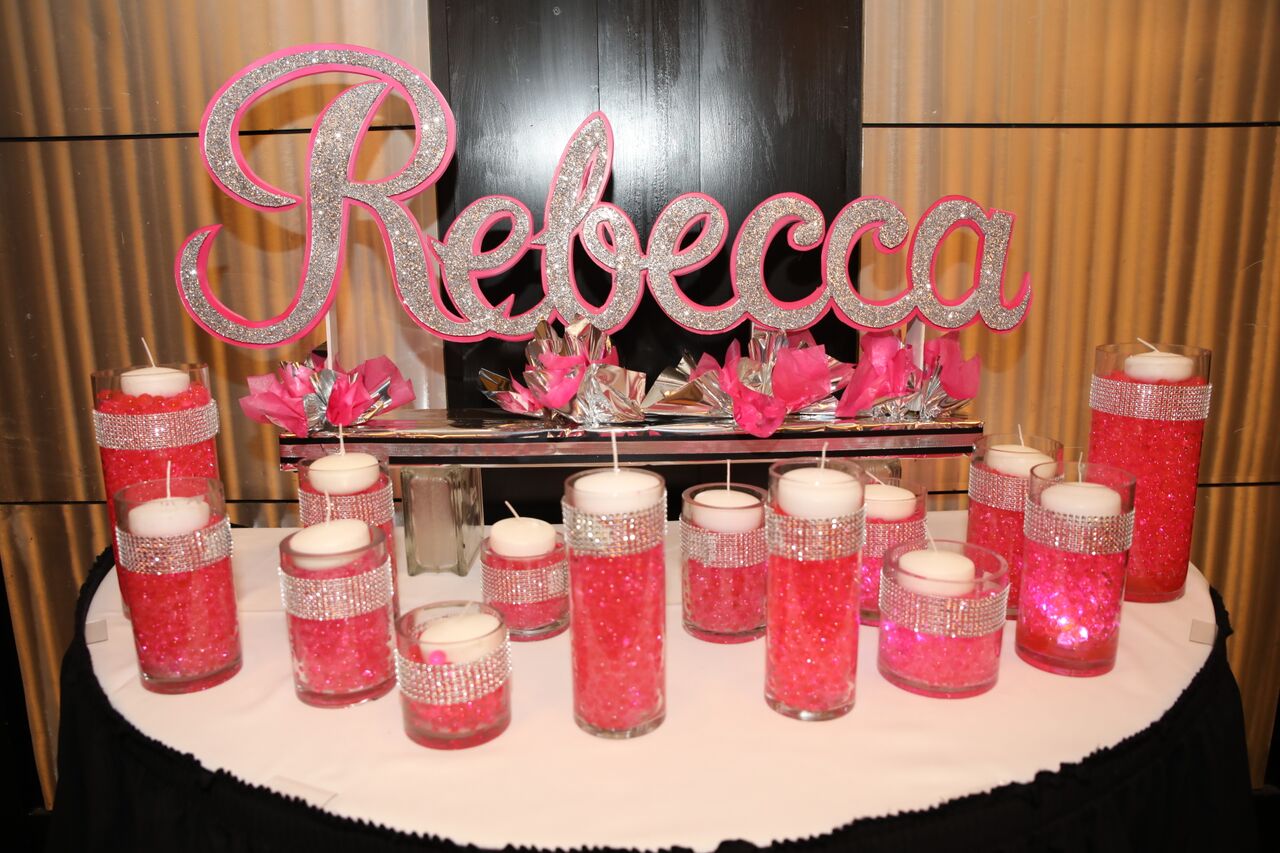 Rebecca's glamorous pink candle display.
ABBREVIATION
Maybe your party's packed schedule doesn't allow for a drawn-out candle lighting. Or, maybe you want your guests to spend less time in their seats, and more time tearing up the dance floor. Either way, there's no reason you can't abbreviate your candle lighting ceremony. Consider reducing the amount of candles you'll light. For instance, some opt to light only four candles: "Past, Present, Future, and Good Luck." In this case, your first candle is for the past, dedicated to those deceased. Your next candle is dedicated to every guest in attendance at your event–"the present." A third candle is then dedicated to your guest of honor's health, happiness, and future. We sometimes like to joke and dedicate the future candle to the rich celebrity your teen will go on to marry. Lastly, the "good luck" candle is dedicated to the guest of honor. With just four candles, you've included everyone with plenty of time to spare.
If you're set on dedicating candles to specific people, be sure to group them up. Both sets of grandparents can be honored with one candle, as can aunts, uncles, and cousins from both sides of the family. Be sure no pal is left out by grouping all your teen's friends together for a single candle, too. This way you'll save feelings, speech writing, and best of all, party time.
ALTERNATIVES
Morgan giving a candle-less speech at her Star Wars themed mitzvah.
You've already thought outside the box about your display and music selection. Don't stop there. Get even more creative and consider whole alternatives to your candle lighting ceremony. One unique idea is a 'puzzle ceremony', where puzzle pieces are dedicated in lieu of candles, and put together to reveal a photo of the guest of honor. Glasses of wine can be poured in place of lighting candles, too, and passed around to age appropriate guests to sip (we suggest grape juice or sparkling cider for the kids). Another alternative is a lighting chain in place of a typical ceremony. In this scenario, the guest of honor lights a candle honoring their parents. Parents then light a candle for grandparents, and so on. This kind of ceremony actively involves each guest from beginning to end, and makes for a unique, inclusive alternative to simply sitting and watching your teen light each candle on their own.
BONUS TIPS
Be sure to use tall, slow-burning candles for your ceremony. You don't want your candles to melt too quickly or extinguish themselves before you're through your speeches.
If you choose to use floating candles of any kind, make sure they are reachable within their container. Candles placed too low may not catch a flame or take too long to light. It'll also make for many awkward silences as your teen struggles to reach each wick.
This may seem obvious, but if your candle is floating in water, make sure the wick stays dry!
Before you get started on any of this, be sure to check in with your venue and/or event planner about your candle lighting ceremony. You'll need to confirm logistics before planning any speeches, displays, playlists, etc., no matter how simple or elaborate. Keep communication open and you'll avoid any and all guessing games.
This blog was written by Xplosive Entertainment, a boutique inspired signature style event firm based in Manalapan, New Jersey. Xplosive Entertainment has been a leader in the private events industry for the last thirteen years. For more information, visit our website or call today.