This blog is different than others we've prepared because it is applicable to all event types, where usually they're specific to a particular market or event type. We're going to dive into the details regarding floorplans and your venue's rules for sound levels. If you're wondering why we've paired these two seemingly different topics together, you will see how they go hand in hand as it applies to your event vision and overall execution. So… what does that mean?! If your event vision is high energy, raging dance sets and heavily influenced by your entertainment, then these two elements must be at the top of your priority list for ensuring your vision is met.
Let's start with the sound levels. Most venues have their own set of house rules that must be adhered to. When it comes to sound levels, some venues have a decibel limit at the edge of the propety line, where some have the limit set within the venue's walls. These are generally outdoor venues or those hosting events simultaneously.  We've also encountered this at hotels where guest sleeping rooms may be just above or below a banquet space.  Decibels, in layman's terms, are a unit used to measure the intensity of a sound or degree of loudness (for reference, your standard vacuum operates between 75 and 85 decibels). This limit is something you should be made aware of before signing any venue contracts.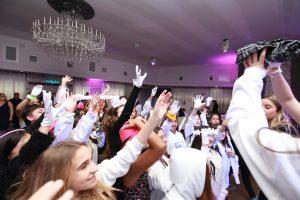 We recently were at a venue which enforced an 80 decibel limit from INSIDE the venue, not at the property line. Our client's event vision was to proverbially blow the roof off of the place.  So we had to explain to her that it wouldn't be loud by any means unfortunately. This particular venue also doesn't allow entertainment companies to supply their own sound, we were forced to tie into their installed sound so the hall can control the levels. During this event, the venue managers would go to the back room and lower the music significantly every once in a while, all completely out of our control. The guests would actually pause and look at us for a quick second because the change was audible. They also have cut all bass out of the sound system so the sound was not as full and crisp as it should have been.  The event was still stellar and the couple was super happy with the end result, but they did understand that things would been more aligned with their vision if the limits were different. When possible, you want make sure your entertainment has control of the levels to ensure the quality of the sound and the atmosphere you want to achieve at your special event.  We should also note, we understand that volumes shouldn't be deafening and at levels forcing guests to scream. A well designed room would allow for louder/more impactful music to fill the dance floor while surrounding table areas would be able to hear announcements clearly but not screaming over the music.
If the 80 decibel limit is at the property line, then I wouldn't be too concerned, that still gives you plenty of full sound on your dance floor to have that epic event you're dreaming of.  (According to some online searching, most weddings are typically closer to 95db on the dance floor).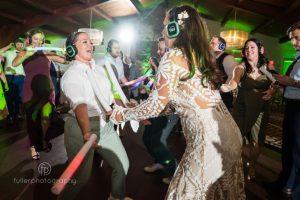 Now, let's shift our focus to the floorplans. This can certainly be a difficult task to undertake when your event has a large guest count coupled with a lot of moving pieces within the main space (like photobooths, screens, fun food stations, lounge, games, the list goes on…). While many things need to make logistical sense, like items requiring power need to be near outlets or taller enhancements needing to be where the ceiling height is at it's tallest, of paramount importance is having your entertainment as close to the dance floor as possible. This is going to create the maximum energy feel that you are looking for. When your DJ is asked to setup far from the dance floor, there becomes a disconnect in energy. It also becomes extremely difficult to understand a crowd properly when you can't really see them that well.
While we're still on the topic of floorplans and event flow, let's talk about having multiple spaces for your reception. If your vision is to have lengthy epic dance sets, then having several spaces with different activations is not going to be conducive to your expectations.  This causes a disconnect in energy as guests space out to the different rooms or areas.  (Potential scenarios… a cigar roller outside, a bar in an adjacent room, a photo booth in the lobby, etc).  If these other rooms are only for certain portions of the event that can be closed off during the times you've allowed to dancing, then that would be best suited in your favor, but that's not always feasible. Weighing out the pros and cons for multiple spaces and seeing which is best for you is only something, you as the host, can determine. Your vendors will give you honest and professional opinions on this, but ultimately it's important you fully understand your vision and the flow of the event as it would progress in your event space.
We hope you found this helpful and if you have more questions on these topics, don't hesitate to reach out to your client coordinator and ask anything you may need answered, as always, we love to hear from you!
Written By:
Jaymie Perez