One of the most popular themes for Bar/Bar Mitzvahs are sports (either a specific sport like basketball or just sports in general).  So, if you fit in this category, how can you make yours different? There are plenty of ways to have your sports themed event stand out from the rest, it just requires a little creativity and the right vendor/partners to make it happen!
The first and most simple strategy would be to select a sports related or themed venue. In turn, there will be less of the atmosphere that you would need to cover or revamp to fit your vision. Consider a sports stadium or museum to host your celebration.
The decor can be as simple or extravagant as you choose for it to be. There are ways to take a sports theme and make it elegant, while still building a cohesive look. The overall vibe of the space has to match the look you're going for.
Here's an example of a baseball themed event we worked at an elegant country club. This client worked hand in hand with her decorator to create an elevated baseball atmosphere within an elegant space. The focal point of the room was the dance floor, which was uniquely set in a diamond shape and used staging to give the look and feel of a baseball field. Illuminated and logo'd/ branded stages as the 1st and 3rd bases with a home base featuring more staging, lighting and banners featuring our guest of honor. The kid's lounge area included lockers and bleachers for them to place their items and have a place to sit for formalities like candle lighting and montage.
*Credit to Rubel Event Management (Planner) & Cedar Hill Country Club (Venue)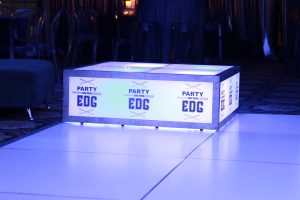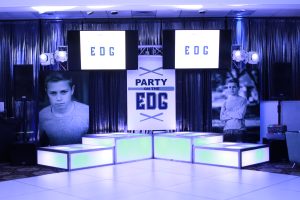 Another baseball example, with a totally different atmosphere, yet still elevating the feel of a typically juvenile looking theme was Logan's bar mitzvah. This back yard tented celebration didn't miss any details when it came to decor and activations. One of my favorite parts of this night was the bronze human statues which were involved in photo ops and various formalities including the candle lighting and grand entrance.
Another show stopping and highly memorable option to consider would be hiring a famous sports celebrity or athlete. They could perform a routine or just come out for photo ops and autographs.
* Credit to Jaclyn Bernstein from Empire Force Events (Planner)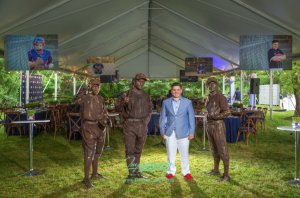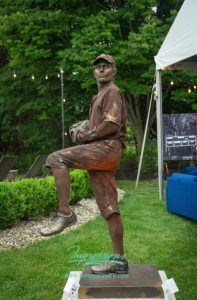 Another area to enhance your theme is the food presentation. Customized concession stands bring the theme to life in an authentic style. Options include a single large stand or several smaller stations each serving their own style of food. We've also created custom food truck facades so it looks like you have a food truck but it's branded with your logo(s). This can also be offered as an exit station on the way out at the conclusion of the event. These can be set up in the foyer area or outside your venue so as guests are departing they can grab a snack to eat on the way home!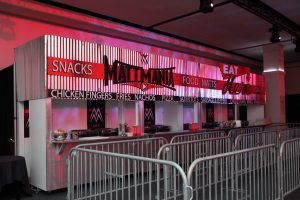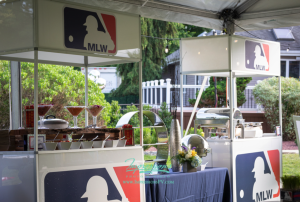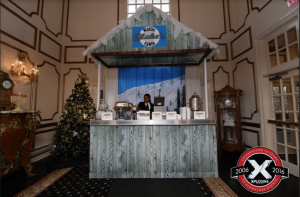 Lastly, for the sake of keeping this blog relatively brief, consider unique ideas on entertainment features. Selected features are often based on how your child would like to spend his or her time at their celebration. If you know the kids are more into games and activities, rather than forcing dancing, we suggest you book some games or host various competitions. Two of my favorite sports enhancements are "Rage in the Cage" and the "Synthetic Slap Shot Hockey Goal". Rage in the Cage is exactly like its name. We bring is a large fenced cage illuminated with neon light tubes, branded with your logo and can contain a half basketball court or can be adapted to a football field goal station. This allows the kids to play the sport with each other. It also includes an attendant who challenges the kids, blocks the shots and creates a fun, competitive atmosphere in the cage. The slap shot hockey is also a crowd favorite. We've built a plexiglass enclosure with synthetic flooring to keep the onlookers safe and complete the feel of the rink. Inside the rink there's a live goalie who blocks the shots of the guests shooting. Guests take turns shooting and always have a blast! If your venue doesn't have the real estate for games mentioned above, talk to one of our Xplosive members about creating a custom Olympics competition for your event.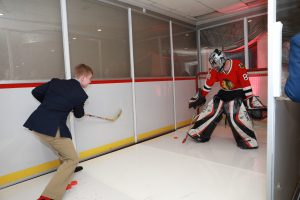 The possibilities are truly endless when it comes to how you can incorporate your theme into all aspects of your event. Give us a call and see how we can customize your Bat or Bar Mitzvah into the spectacular memorable celebration you deserve!
Written By: Jaymie Perez
Event Planner | MC | DJ
Xplosive Entertainment
Jaymie@XEevents.com
732.866.1860