Farmhouse weddings are rapidly rising in popularity, and it's clear why. The great outdoors provides a charming and romantic backdrop with rolling hills and flowering fields. Country décor and accents add certain chic in their simplicity, too. However, pulling off a farmhouse wedding presents its fair share of challenges. Between the potential for nature's unwanted flying creatures (aka bugs), sound regulations, unpredictable weather, and lack of modern amenities, it can be difficult to accommodate your wedding vision without strategic planning.
However, by drawing inspiration from these rural themes, crafting your perfect farmhouse wedding becomes a winnable battle. Keep reading for tips on how to bring country magic to your event through décor, entertainment, planning, and more.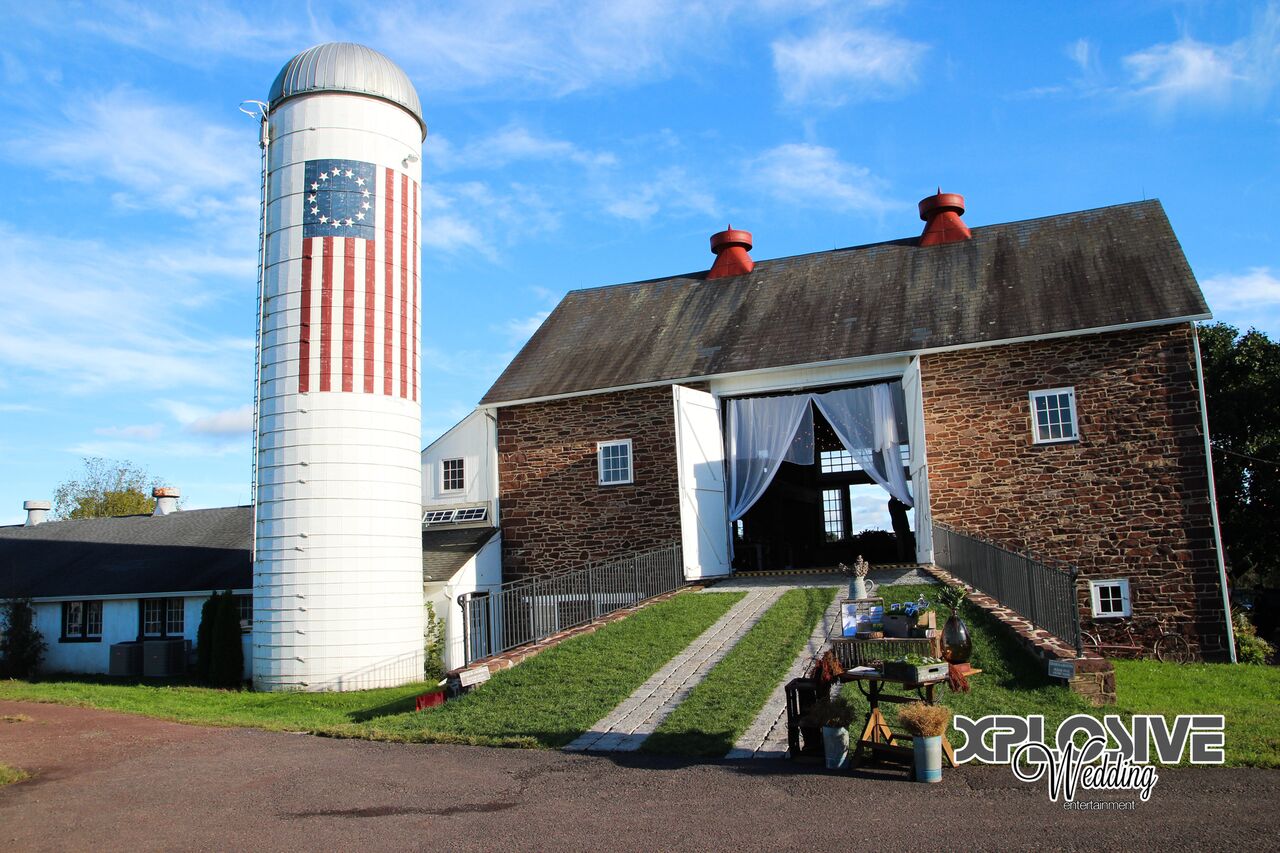 (Durham Hills Farm in Bucks County, PA)
Choosing Your Venue: First and foremost, your rustic wedding does not have to be booked at a real farmhouse. In reality, most barns are not built to accommodate elaborate receptions or a large number of guests. Many also require permits for public use, and observe strict city or county noise ordinances—so forget dancing 'till dawn or roasting s'mores past midnight. Hard floors, heating, air conditioning, and electricity aren't guaranteed, either. With that in mind, consider a winery instead, like Laurita Winery in New Egypt, New Jersey, or farm inspired venue, such as The Hamilton Manor in Hamilton, New Jersey. These locations maintain rustic appearance and charm while also tending to your event's most basic needs—like space, plumbing, and power to name a few.
Another quick tip—consider having your entire reception in the same room, as opposed to dividing dining and dancing between two spaces. This will absolutely help with the flow of your event.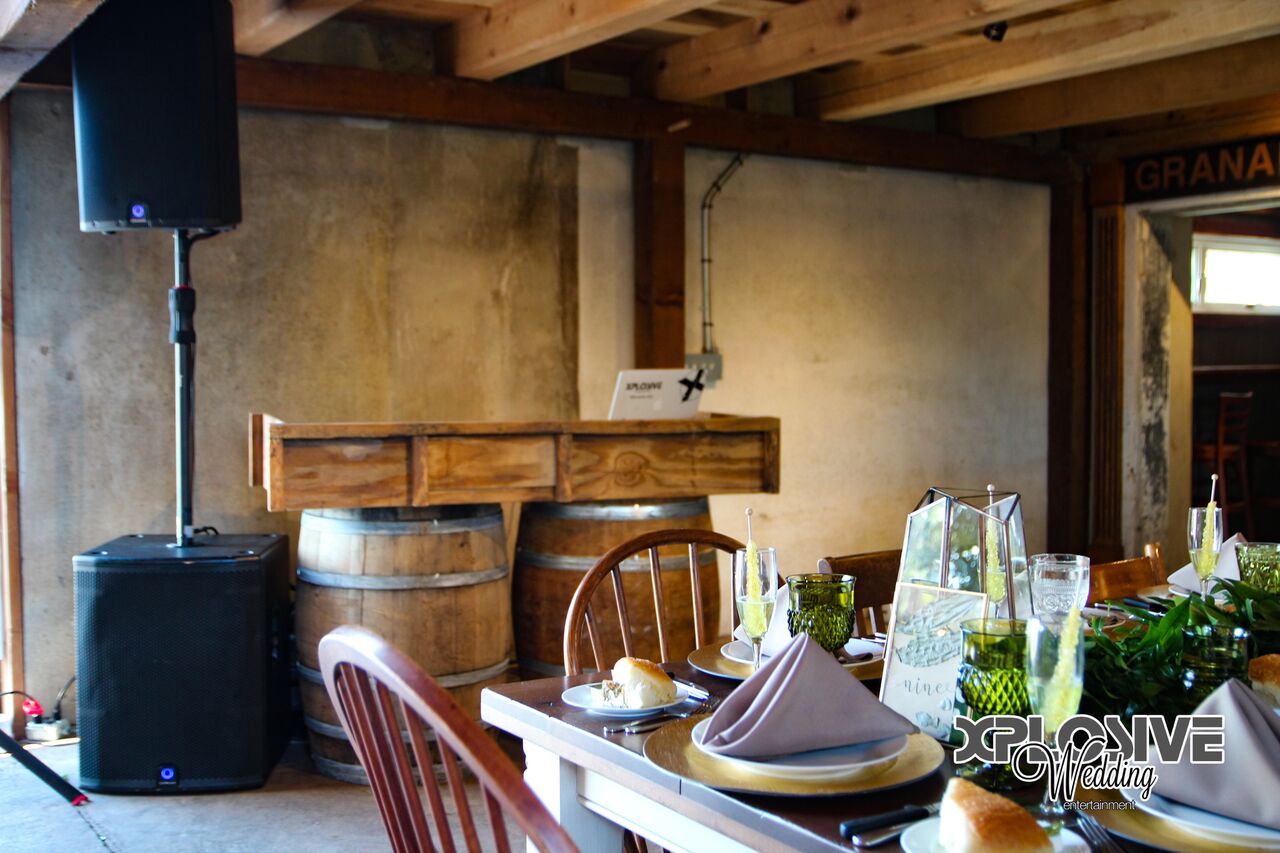 The Perfect Décor: Once you have your venue set, it's the finer details that really pull a farmhouse wedding together. Even a bare reception hall can be transformed into a cozy barn with the right decorations and accents. Consider a few of these essentials when crafting your perfect country inspired décor:
White Lace—hang curtains for a delicate, classic backdrop, or charm up guests' tables with lace doilies.
Wooden Barrels—wood accents add a rustic touch, especially barrels. Use them as display stands, assemble them into a gift table, stack them as a photo backdrop, or even turn them into a DJ booth (pictured above)!
Greenery and Florals—bring some of the farm's natural beauty inside with potted plants, hanging vines, and fresh florals. Use faux flowers as a cheaper alternative for the same effect.
Mason Jars—use clear or painted jars as candle holders, centerpieces, or even drinkware! At about a dollar a piece, they are incredibly cost effective. For additional charm, add twine, ribbon, or marbles that match your particular color scheme.
Chalkboards—in lieu of a sign-in book, have your guests write a personal message on a mounted chalkboard. Chalkboard paper is also perfect for rustic signs, place cards, menus, and tags for your favors.
Cork, Rope, and Twine—use these materials to customize your centerpieces, hanging decorations, place cards, backdrops, favors, and more. Collaboratively, they'll add the perfect cozy and rural touches to your event space.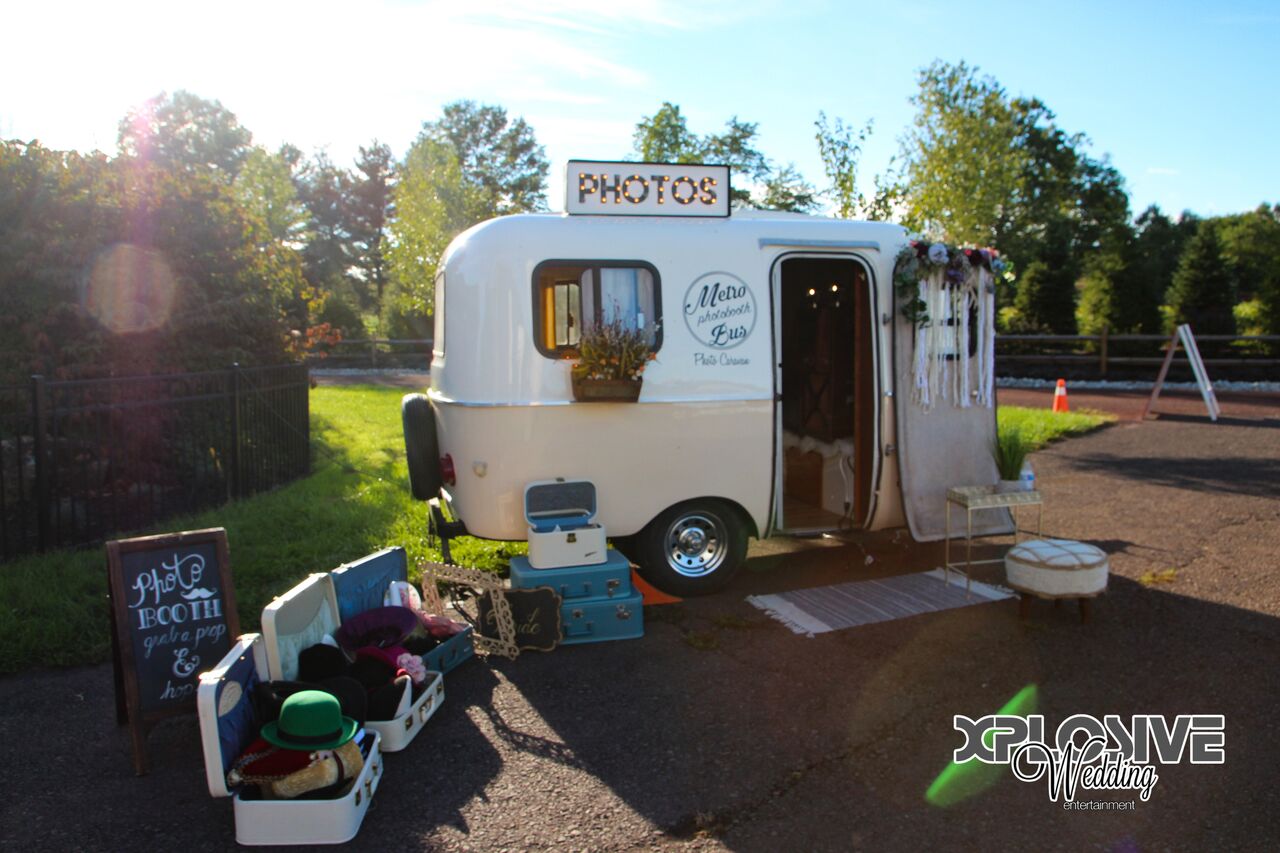 Unique Entertainment Options: Rural properties provide certain opportunities for guest entertainment that aren't found anywhere else. For example, if your venue is home to live animals, consider setting up photo ops or a petting zoo. Some farmhouse inspired venues are built near historic landmarks—or are landmarks themselves—which makes for a unique, sophisticated backdrop. The same goes for classic trucks or farm equipment. Your guests will have a blast posing for shots and capturing moments with these one-of-a-kind elements, especially when they're incorporated into your customized photo booth setup (pictured above).
Music is an easy way to bring your farmhouse theme to life, too. Be sure to hire a DJ who is adaptive and able to tailor songs to your distinct vision. For instance, an array of acoustic guitar and/or country songs may befit your cocktail hour. Later, liven up your reception with traditional, high-energy square dancing. Consider co-booking a live musician—for additional ambiance.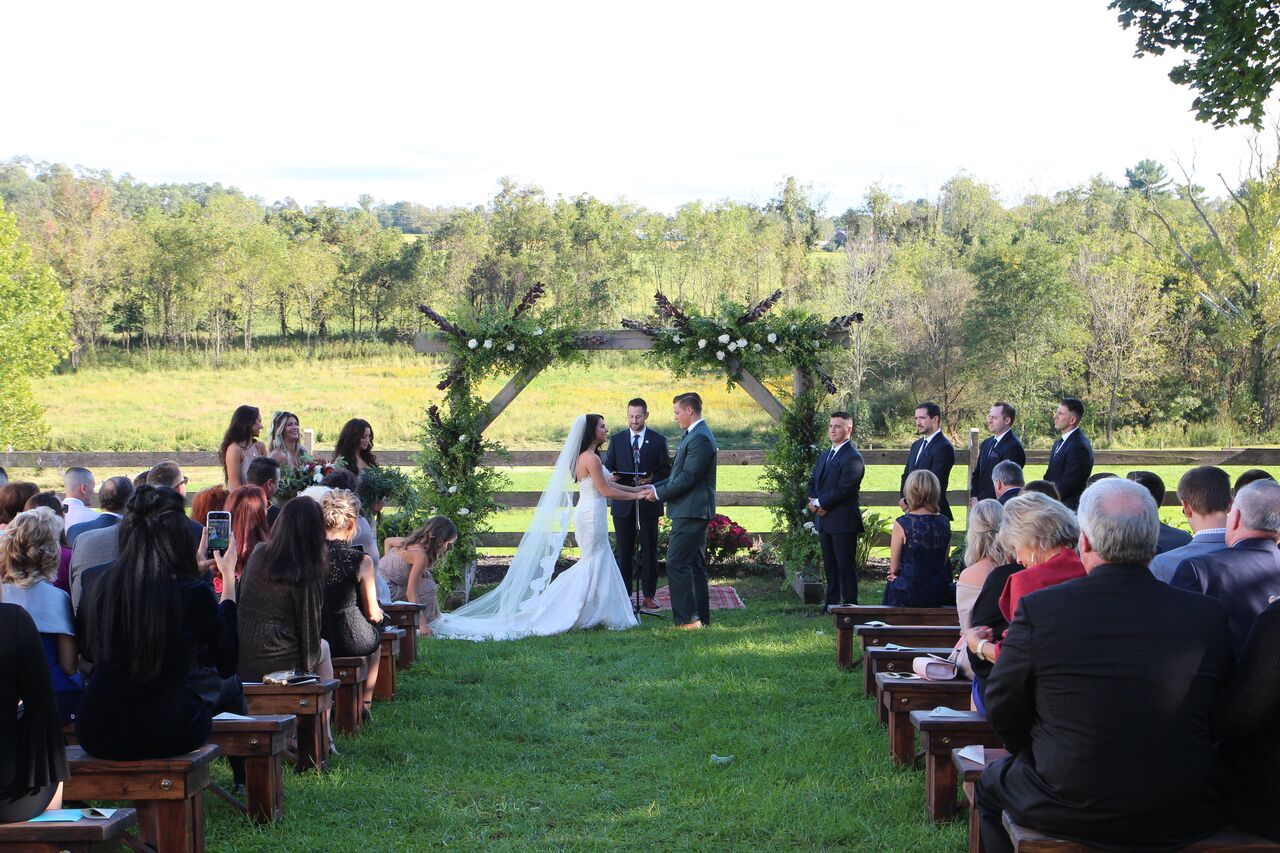 Necessary Precautions: For a farmhouse wedding to be successful, you must plan for the worst. When something as simple as rain can throw a wrench into your entire affair, it's critical to craft a solid back up plan. Consider the following obstacles and ways to overcome them:
Rain—though it's considered a sign of good luck, rain can put a damper on your wedding day. Prepare for weather by reserving tents for your outdoor ceremony and cocktail hour. Alternatively, work with your venue to reserve an emergency room or space. As a small courtesy, provide umbrellas for your guests to use—perhaps even as favors!
Terrain—rural venues aren't always equipped with paved roads and parking lots. Rain also turns grassy grounds into a slippery, muddy hazard. Consider these facts when selecting your venue. Platform flooring is essential for any outdoor event as well. It's also a good idea to provide flip-flops or flats for your guests. You'll spare their heels the trauma of gravel, dirt, and mud.
Bugs—depending on the time of year, uninvited buzzing and biting guests are bound to flock to your outdoor event. Prevent a swarm of mosquitoes (or worse) by surrounding your venue with citronella candles (they'll add to the ambiance, too!). Be sure to provide bug sprays and itch relieving creams in the bathroom baskets for your guests, too. They'll definitely appreciate the foresight.
Allergies—live animals, hay bales, and fresh greenery provide a fun and picturesque setting for your farmhouse wedding. However, they can all wreak havoc on your sensitive guests' allergies. Ideally, you want to avoid using these sneeze-inducing elements in excess during your event. Toss some antihistamines into the bathroom baskets for your guests, too, and provide some just-in-case packs of tissues. It may also be beneficial to warn your guests of allergens in advance through your wedding website.
Noise—as scenic as an outdoor ceremony is, your vows will likely end up competing with a plethora of background noise. Winds, animals, field equipment, and passing traffic can drown out your 'I do's' with ease. Avoid having to shout at the top of your lungs by investing in a PA system during your ceremony. A simple speaker and microphone setup should do the trick, and spare you a sore throat or the possibility of your guests missing those sentimental moments.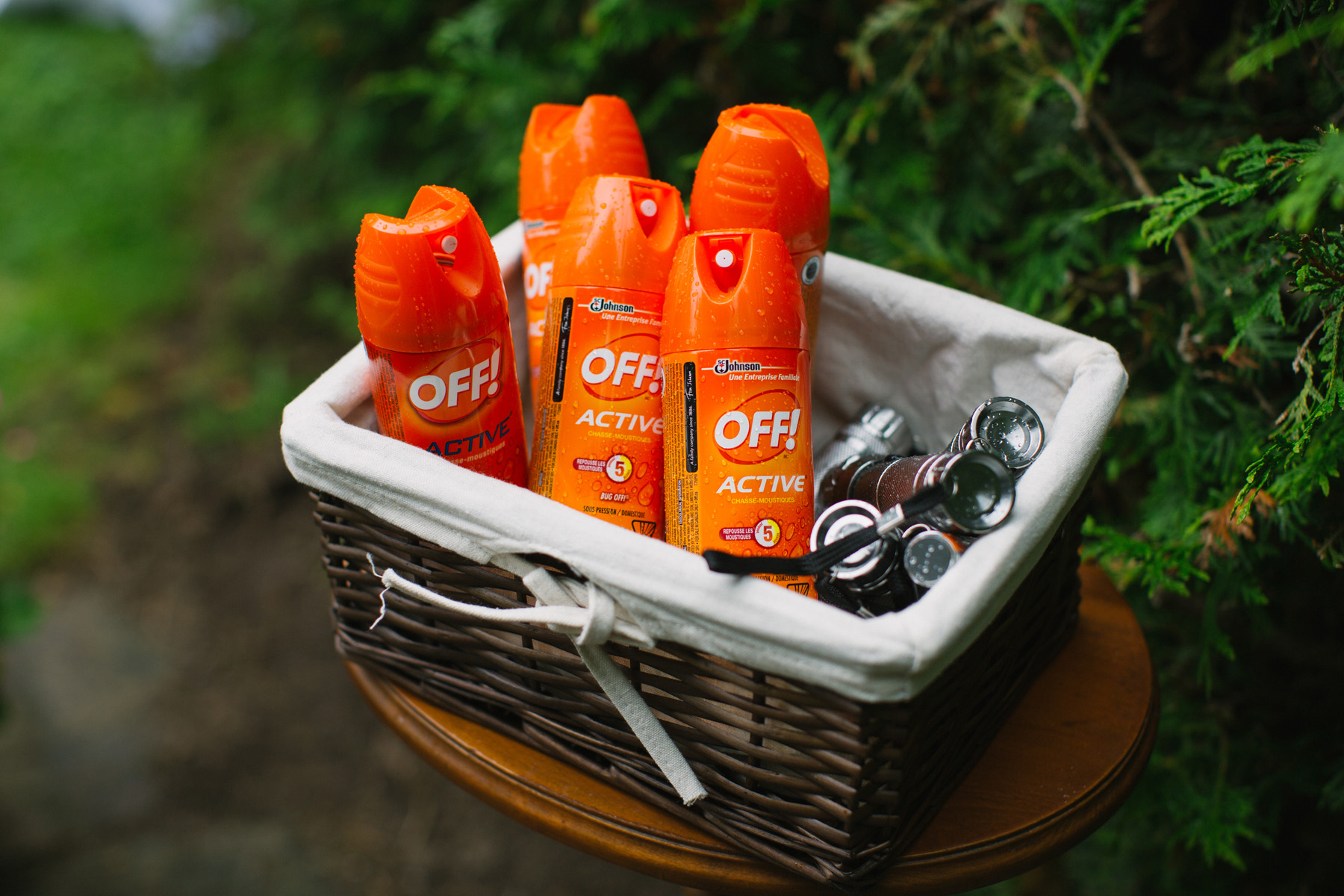 With all this in mind, you are well on your way to crafting your perfect farmhouse inspired wedding. Remember that a little planning goes a long way, and that the small details make the biggest difference. We at Xplosive Entertainment hope you've found this blog helpful, and sincerely congratulate you on your upcoming special day.
Happy Crafting!
This blog was written by Roux at Xplosive Entertainment, a signature styled boutique inspired event firm based in Manalapan, New Jersey. Xplosive Entertainment has been a leader in the private events industry for the last 13 years. For more information, call 866.XPLO.ENT or visit our website at xeevents.com.