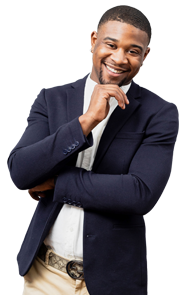 Semaj, yes you read that right, is his real name. It is JAMES backwards! But that isn't the only unique thing about him.
An actor by trade, Semaj is ready to bring any type of energy to any type of party. Semaj's style is built on his "larger than life" personality!
Semaj has a heart for people. With a very approachable and outgoing charisma, Semaj has the mindset to fulfil any request with professionalism and charm. This up-and-coming MC has the passion to make any party exhilarating. His talent for bringing energy to each and every event is just one of his MANY characteristics. Semaj has a soft spot for old school music and brings that to the table with a new school mindset.
We are sure that Semaj's impact on your event will be everlasting. Semaj is one "Character" you will not forget!
Semaj's Videos
Unforgettable Bar Mitzvah Celebration at Montclair's Loft with MC Semaj!
MC Semaj at Jumping Brook for Jayden
MC Semaj - Trinity's Sweet 16