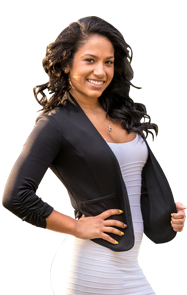 When it comes to contagious energy, a sparkling personality, and an extensive knowledge of event development, Jaymie Perez is the first name that pops into mind. Whether she's entertaining as a top tier Event Ignitor or developing event concepts behind the scenes here at our office, Jaymie is a crucial piece of the Xplosive puzzle. As soon as her gigantic smiles lights up the room, you will automatically hop on board the Jaymie Train.

When asked what Jaymie enjoys most about being an employee here at Xplosive, she responded: "I absolutely LOVE becoming a part of the family with every client I connect with. Being able to create and execute an event that will be embedded in the minds of friends and families who attend is a feeling that is truly PRICELESS in my mind."
Jaymie is the perfect example of what we call the "Xplosive Difference", and can be best summed up by one of her favorite quotes:
"Everybody's coming to the celebration
I'm gonna hook you up with the invitation.
Let your hair swing and party with me,
No bad vibes, just love, you'll see!!!"
Fun Facts!
Favorite Food? Pizza!
Guilty Pleasure? Sleeping!!
Spirit Animal? Unicorns (of course!)
Favorite Animal? Cats
Hobbies? Traveling
Bilingual! I also speak Spanish