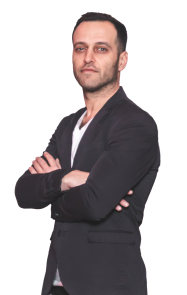 He has the look. The voice. And 20+ years of experience on the mic.
Jared is a true professional of the entertainment industry. Working for high end production companies for the last two decades has allowed Jared to refine his approach to each one of his parties, creating unique experiences for each client. Jared understands that each party is different, and therefore approaches each client's needs on an individual basis. His playfulness on the mic creates an atmosphere which allows all the guests at his events to feel comfortable, and keeps everyone laughing, smiling, and dancing all night long. On top of his talent behind the mic, Jared also works in our office as our Client and Event Coordinator… which means, after you become good friends planning all the details for your special day, Jared can also MC it! Call today to book Jared for your next event!
On top of that Jared had a great eye for decor. When he's not working with Xplosive Entertainment, Jared has a his own business providing decor for events. He is avid skier and former ice hockey player.
Mitzvah Video
MC Jared | Xplosive Entertainment | Eventi Hotel
Wedding Video
MC Jared | Navid & Alyssa's Wedding at the Art Factory
Xplosive Entertainment | Jessica and Aaron | ParkLoft