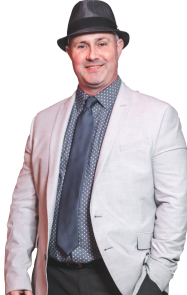 DJ Justin T – Known internally at Xplosive as "The Wizard."
Justin is a high-energy disc jockey, multi-instrumentalist, engineer, producer, composer, and vocalist with more than ten years experience rocking parties. Justin is well versed and comfortable with Mitzvahs, Weddings, and Corporate entertainment utilizing his lifetime of musical and technical education, knowledge, and understanding.
He got his start in 2012 as a DJ and warehouse manager with A Sharp Production and soon grew by leaps and bounds as an entertainer under the direction of Adam Weitz and his team of highly experienced industry veterans. He has been playing and writing music since his teenage years. Justin has earned a Bachelor's Degree in Music Composition with a minor in Music Business and Technology from the University of the Arts all while working full time managing the equipment and staffing for hundreds of happy clients.
As mentioned before, Justin does much more musically than the skillful and creative blending of carefully curated playlists. We have seen him suddenly emerge from behind the DJ facade with his electric guitar to tastefully complement the dance music with a smile and an improvisational style which adds that extra sparkle to an already shimmering production.
He will also appear as a solo act from time to time during cocktail hour, sharply dressed and wielding his acoustic guitar, as he may croon subtly and belt out powerfully popular favorite tunes from the sixties, seventies, eighties all the way up to some of today's most popular current music. He brings passion and pizzaz as he plucks, strums, and sings his way into your heart.
Today, holding the title of Production Manager, Justin is an integral team member here at Xplosive Entertainment, and he has participated in the organization, direction, and execution of hundreds of spectacular events using all the skills and abilities he brings to the table.
Request DJ Justin T for your event, and let the wizardry happen!