Comparing Apples to Apples…
Are all apples the same? Not really… some are green and some are red.  Some are healthy organics and others were cultivated with an arsenal of chemicals But… they are all apples right? So what does the expression "apples to apples" really mean?
This old adage gets thrown around so frequently. Last week Xplosive Entertainment was compared to another DJ and the client opted to book the other DJ since "apples to apples," we were both providing the same services and the other company was simply less priced.
The deeper question is, are these two companies really the same?
This blog has been written to educate the reader that all DJs are not the same and that side by side comparisons on paper may make entertainment services look the same, but its possible they are extremely different. Like different apples, choosing the right DJ service can ultimately leave you with sweet happy flavor or can leave you with a more sour unpleasant experience.
This chart was created to show six main points which should dismay the thought that all entertainment companies are the same or providing the same event product.
DJ SERVICE COMPARISONS TO EVALUATE
DJ Talent/Experience
Does your DJ understand the right music to play and do they know the proper flow for your event type, audience age, and your expectations?   Can the DJ mix music seamlessly?   Will your DJ play songs in their entirety or will they be "quick mixing" and cutting songs short? Can the DJ handle any equipment difficulties and trouble shoot efficiently if needed? Is the DJ prepared at all times with backup equipment, music, etc.
MC Talent/Experience
The MC is your event host. He or she will set the tone of the party. Can this MC speak clearly? Can he or she command the attention of the room? Can the MC communicate effectively? Will he or she be charismatic & professional while running your formalities? Can this host create "moments" and lasting memories? Or will this MC come off as cheesy, over-bearing, and ultimately ignored by your guests? Is your MC dressed stylish and neat or does he have a sloppy unprofessional look?
Equipment
While all DJ equipment starts with a music source and speakers is there really much difference that a client should look into?   Brand name, model numbers, wattage shouldn't be important to a client, but the overall sound, effectiveness, and appearance of this gear is ultimately responsible for the outcome of the event. The difference of an entry level $200 wireless mic vs. a professional $1500 mic can mean the difference of clearly hearing speeches and toasts or dealing with ear piercing feedback. Good speakers sound clear and project audio throughout a venue (when setup properly) so that guests can hear (and feel) the music. Cheap speakers distort sound and may cause your guests to leave the party with ringing in their ears.
Appearance
Assuming you are spending a good deal of money on a venue and decoration, you should want a DJ with a polished look, attractive façade, and obvious attention to detail. This means proper equipment positioning centering their gear in the room, neatly hiding wires, and using trendy tools to display the required equipment. Or, would you find it acceptable to see dangling wires, old scratched up equipment and visible equipment set on a venue provided table?
Lighting
Not all lighting is the same. Some DJ lights can be controlled allowing spotlighting of special formalities, selectable colors, adjustable brightness and speed, etc. Other DJ lights are sound activated and giving the DJ no control over the output.   With no control over the lighting, you should be concerned with the lights in guests' eyes and cheesy looking colored dots on guest's faces in photos. Lighting can make the difference of a 1980's looking roller rink style light show vs a posh and upscale Miami chic lounge.
Creativity
Do you want your entertainer to be creative in their music choice, MC's style, and setup appearance, or would you be fine accepting a cookie cutter non-personalized approach.  Creativity goes hand in hand with talent and experience. These are not traits that one is born with. Rather creativity comes from hard work, dedication and the desire to always push the limits and think outside of the box.
It's very easy to quickly assume that two companies each offering speakers, lights, and microphones for a five hour event are both the same… however… as I'm writing this blog, I can think of dozens of clear examples to separate one company vs. another.  Let's let these photos do the talking though.  Compliments of google… the first two images were found from searching "wedding DJ."  The next two images are from two past Xplosive Weddings.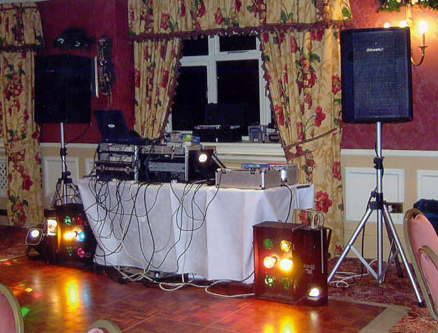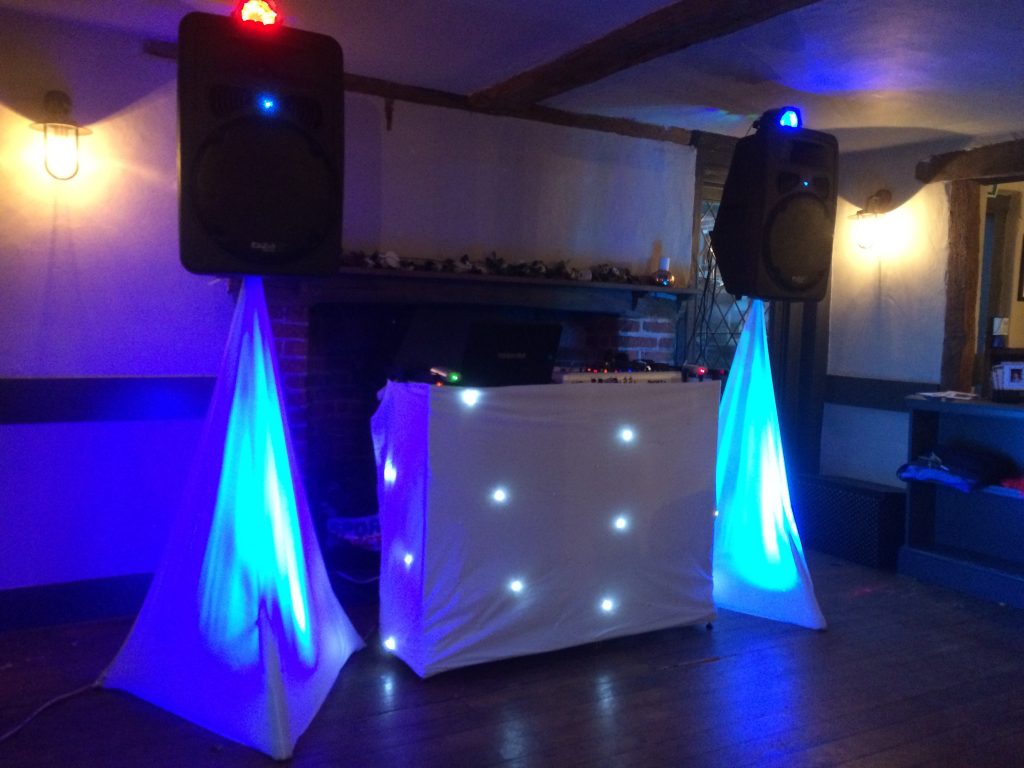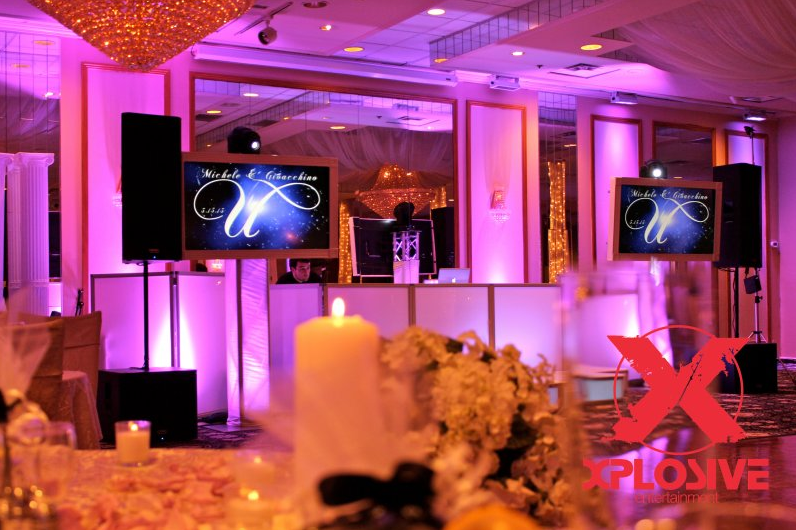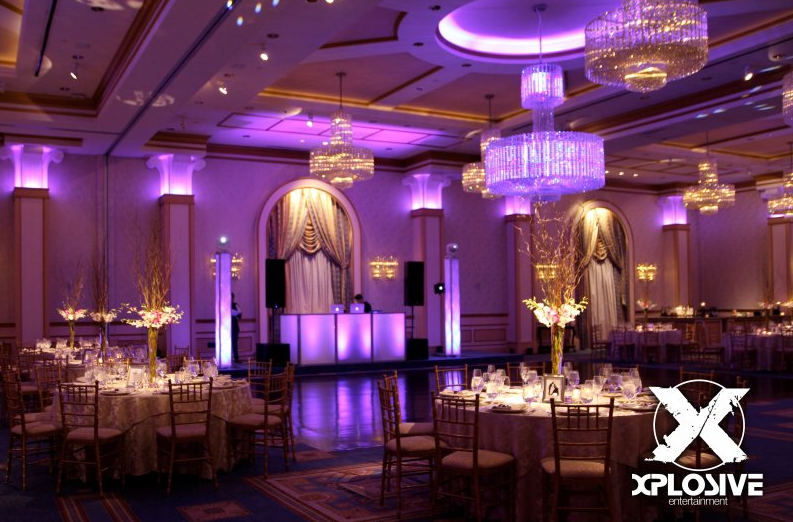 An analogy that I heard a long time ago and loved was comparing an eight ounce Filet Mignon from TGI Fridays to an eight ounce Filet Mignon from Morton's or Smith and Wollinsky. They are far from the same right? Your expectations with the Fridays food and experience is vastly difference than that of the "same" steak dinner at Morton's or Smith and Wollinsky.   The same applies with your DJ search. For a basic back yard party, the TGI Friday's simple DJ may be all you need. But for your once-in-a-lifetime upscale event, TGI Fridays surely isn't your choice… therefore be sure your entertainment is really on par with your expectations.
In summary, we hope our clients can clearly see the difference from one company to another. To do so, we encourage clients to attend showcases, watch videos with real live audio from past events, and mostly to go with their gut. When interviewing possible entertainers for your next event, your gut will tell you if someone has experience, professionalism and a clear understanding of your wishes. Keep in mind, in the event world, there are no re-dos.
Michael Langsner
Vice President
Xplosive Entertainment
michaell@xeevents.com