Summertime beach weddings come to mind instantly when thinking about Jersey Shore weddings, however New Jersey's wide range of venues provide an excellent array of choices for engaged couples regardless of the season. Each season brings a fresh atmosphere with a multitude of different picturesque wedding opportunities. The summer sun shines bright over the white sandy beaches with waves crashing one after another. The fall months are categorized by a colorful display of tall trees, forests, and the family oriented Halloween and Thanksgiving holidays. Winters offer a subtle yet soothing frost encapsulating view finished with snow dusted grounds. The Springtime, in NJ, blooms with a floral array and spectacular sunsets.
Combining the varying seasons in New Jersey along with its rich selection of wedding friendly venues, the options become endless. The intentions of this story are to open the eyes of brides and grooms to the infinite choices of year-round wedding opportunities available in the beautiful Garden State.
Starting with venues, the Jersey Shore region (including Monmouth, Ocean, and Atlantic Counties) offer an initial choice of hotel, country club, banquet hall, winery, park, museum, or historic site. Many of these venues offer waterfront receptions overlooking the vast Atlantic Ocean, calm flowing rivers, lakes, ponds, and streams. If waterfront views are not a requirement in your list of wedding day needs, you may consider the metropolitan feel offered in some of NJ's quaint old fashion and super trend setting downtowns like Red Bank and Freehold. Or, for the more country-loving folk, after driving through long windy rural roads Napa Valley inspired wineries and world class golf courses can be explored.
Combining the diverse range of venues with the varying scenes offered by the changing seasons provides happy couples with an ongoing artistic display of options.
The Oyster Point Hotel in Red Bank, (where I exchanged my vows May 2012), offer brides and grooms a beautiful sunset photo op on the pier lined with million dollar fishing and cruising boats during the Spring and Summer months. Then several months later this same contemporary hotel and marina offers a holiday storybook view of the frozen chunked Navaskink River.
Ashford Estate, from the "Weddings of Distinction" group of elite NJ wedding properties, offer a year round indoor/outdoor selection of choices for the celebrity status bride and groom. When employing the incredible built-in lighting effects, one can transform the room night after night from a winter wonderland wedding to a Fall inspired amber color washed wedding look.
I asked an experienced NJ Native wedding planner for input on the advantages of Fall shore weddings compared to Summer weddings at the Jersey Shore. Here you will learn some valuable information provided by Kathi R. Evans, ABC™ of All the Best Weddings & Celebrations.  "After Labor Day is 'local summer' here at the Jersey Shore. For those who want a wedding at the beach it's the perfect time of year. The weather is still beautiful through mid-October. This year it was 60+ degrees the first weekend in November. Prices for room blocks at local hotels will drop and the requirement for two or three night stays will reduce to one night at most locations for your out of town guests. Traffic won't be as much of an issue either for guests traveling from church to reception. Waterfront restaurants will have better availability for showers and rehearsal dinners. Venues such as the Surf City and Branch Beach Yacht Clubs on Long Beach Island have available dates now that sailing season is over (you normally can't book there during the height of the summer) and both venues have gorgeous bay views and opportunities for unique sunset photos. Other LBI locations such as Daddy O's, The Gables, and local B&Bs will be better able to accommodate you. Having your ceremony on the beach means you may have to deal with a little more wind than you might like but the chances that a guy in a Speedo is going to end up in your pictures diminishes. In Monmouth County look at Asbury Park for some unique venues such as McLoone's Supper Club and the Watermark. Both are right on the boardwalk with fabulous ocean views. If you need a bigger venue look at The Berkeley Oceanfront Hotel. They have 5 rooms on the Mezzanine level to choose from as well as the expandable Kingsley Ballroom downstairs. Street parking at the Asbury Park boardwalk won't be as much of an issue either, so you might choose not to hire a valet service. The Asbury Park boardwalk is also a great place for photos including the Swan Boat Park, Carousel House, The Casino, and Convention Hall."
There is also something very magical about winter weddings. Besides receiving "off-season" rates at many venues, Winter weddings provide a very unique opportunity for non-traditional photo sessions. There's something very angelic to a bride's white dress being captured under the perfect light in a snow-covered backdrop.
New Jersey is also home to many magnificent private and public golf clubs. Many of these courses are located near the Jersey Shore. Spring and Fall weddings at golf courses are spectacular as the greens are adorned with artistically landscaped sprawling greens. The Battleground Country Club, located in Monmouth County is a prime example of a picture perfect wedding setting. Just this past weekend, our client's Brett Ashley and Michael exchanged their vows as the sun was setting above the outdoor gazebo adjacent to the venue's recently renovated banquet space. The early November evening temperatures were in the low 60's and perfect for this couple's dream wedding! Seen here is a photo from this ceremony provided by David Todd Photography.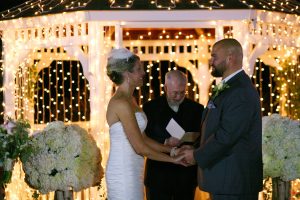 As New Jersey (and the shore region especially) thrives on tourism, I cannot leave out of this article a mention that NJ offers spectacular weekend destination getaways. Out of town guests love to take advantage of the state's impressive shopping malls, outlets, and downtown boutiques. New Jersey also offers a mecca of culinary options including a range of restaurants from five star dining options through fun, funky and swank eateries.
In writing this story, and thinking of the Jersey Shore, it's hard to avoid the effects of Hurricane Sandy. While this devastating storm destroyed much of the shore-lined region, many venues have since rebounded. One year later, since the ravishing tropical storm, venues such as The Channel Club and Bayville's Water's Edge have rebuilt and came back bigger, better, and stronger than pre-storm conditions.
In summary, New Jersey is home to unbelievable wedding options. In fact, as an operator of a DJ based entertainment company, it would be foolish for me to leave out a note that NJ is home to some of the most unique and cutting edge entertainment options. Taking cues from NYC (yet not priced as high as the city entertainment groups) these NJ based bands and DJ production companies provide world-class mobile entertainment for private affairs. Class, elegance, personalization, and signature styled creativity exemplify the top entertainment companies in the Garden State. If you are looking for a NJ Shore wedding complete with charm, class, excitement, and elegance consider the options year-round that the Jersey Shore has to offer.
For additional questions, input, or direction when planning your NJ wedding, feel free to reach out to me, a NJ shore local who has the pleasure of entertaining at weddings throughout the region from weekend to weekend with my team at Xplosive Entertainment.
Michael Langnser
Vice President
Xplosive Entertainment
A NJ Based Signature Styled Event Firm
732.866.1620
www.XEevents.com
michaelL@XEevents.com