Once upon a time, comic books were a niche interest that appealed to a limited demographic. Flash forward a few years—they've gained major popularity and mainstream relevance. No matter where you go, you're bound to see someone wearing a t-shirt with their favorite hero's logo on it. Local comic shops have grown into crowded hubs buzzing with enthusiastic fans, new and old, from all walks of life. And, superhero films by comic juggernauts like Marvel and DC excite and entertain audiences larger than ever before on a regular basis.
With all this newfound traction, superheroes are more beloved than ever, and by all age groups. Of course, kids are especially fond of these famous caped crusaders. Whether it's their innate sense of imagination and wonder that does it, or their desire to be just like their favorite heroes when they grow up, superheroes have completely usurped many traditional interests (Disney princesses, dinosaurs, etc). So, given how widely admired superhero comics and culture are, it's only natural that comic themed parties are on the rise as well.
If your child is a comic book hero fan, a super theme is the way to go for your upcoming mitzvah. But, how do you get started crafting the perfect comic inspired celebration? We at Xplosive Entertainment have prepared some tips to help you tackle each crucial component.
DÉCOR
Décor is a key element when it comes to creating your comic theme. Start simple with a color scheme. Comics are known for their bold, vibrant colors—think bright reds, blues, and yellows—with pops of white and thick black borders. If there's a particular hero that your teen is into, you can also build a color scheme based off their logo, costume, and aesthetic. For instance, if you are modeling your party after Batman, deep greys, bright yellows, and dark blues are the way to go.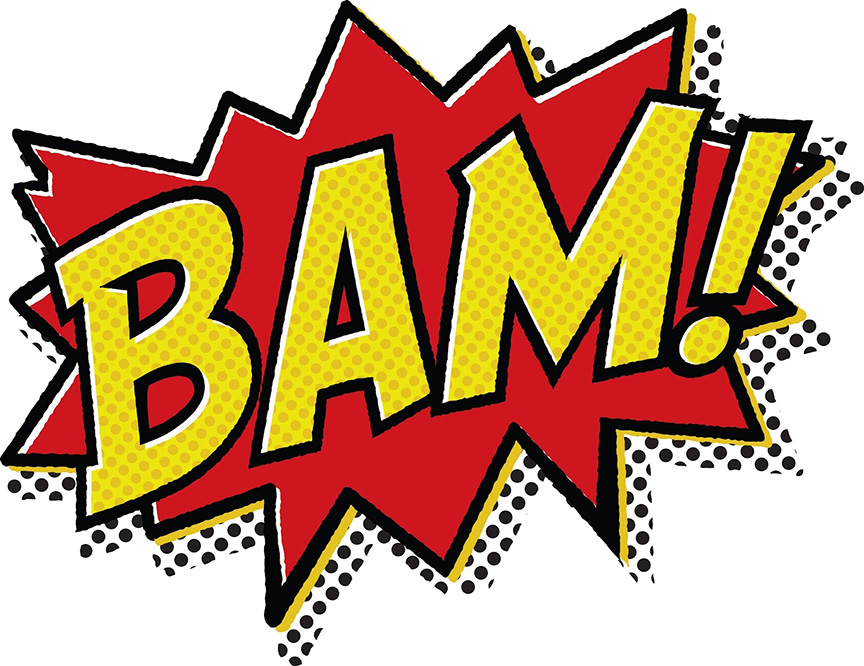 Next, consider graphic art. Comic books are known for their signature art stylings, and you'll want to emulate them within your décor. Make use of giant speech bubbles exclaiming words like 'POW', 'BAM', and 'BOOM'. Two-dimensional cityscapes also make the perfect backdrop for comic-esque photos. Lastly, and perhaps most importantly, is the use of a logo. If your party is themed after a particular hero, plaster their logo on everything from invitations, to place settings, to tables themselves through the use of decals. You can go even one step further with gobo projections. Let's use Batman again as an example. Shine a gobo of the Bat Symbol over the walls of your banquet hall to give it a realistic Gotham City feel. Unique decorative touches like this can really make all the difference.
Alternatively, you can get creative and design your own logo for your child. Drawing inspiration from existing heroes, craft a logo that shows off your super-kid's name and event date. You can even pair it with a catchphrase—"it's a bird, it's a plane, it's Rebecca's bat mitzvah!" Don't be afraid to think outside the box, and to work with your party planner on a design that suits your teen's vision best. Once your logo is designed, customize party menus, place cards, photo booth strips, and more with it!
One last tip—consider using actual comic books as part of your décor. Doing so might make for a fun DIY project or two. Or, you can support a small business by purchasing custom decorations made with real comics online. A few of our favorite options are below. Check them out!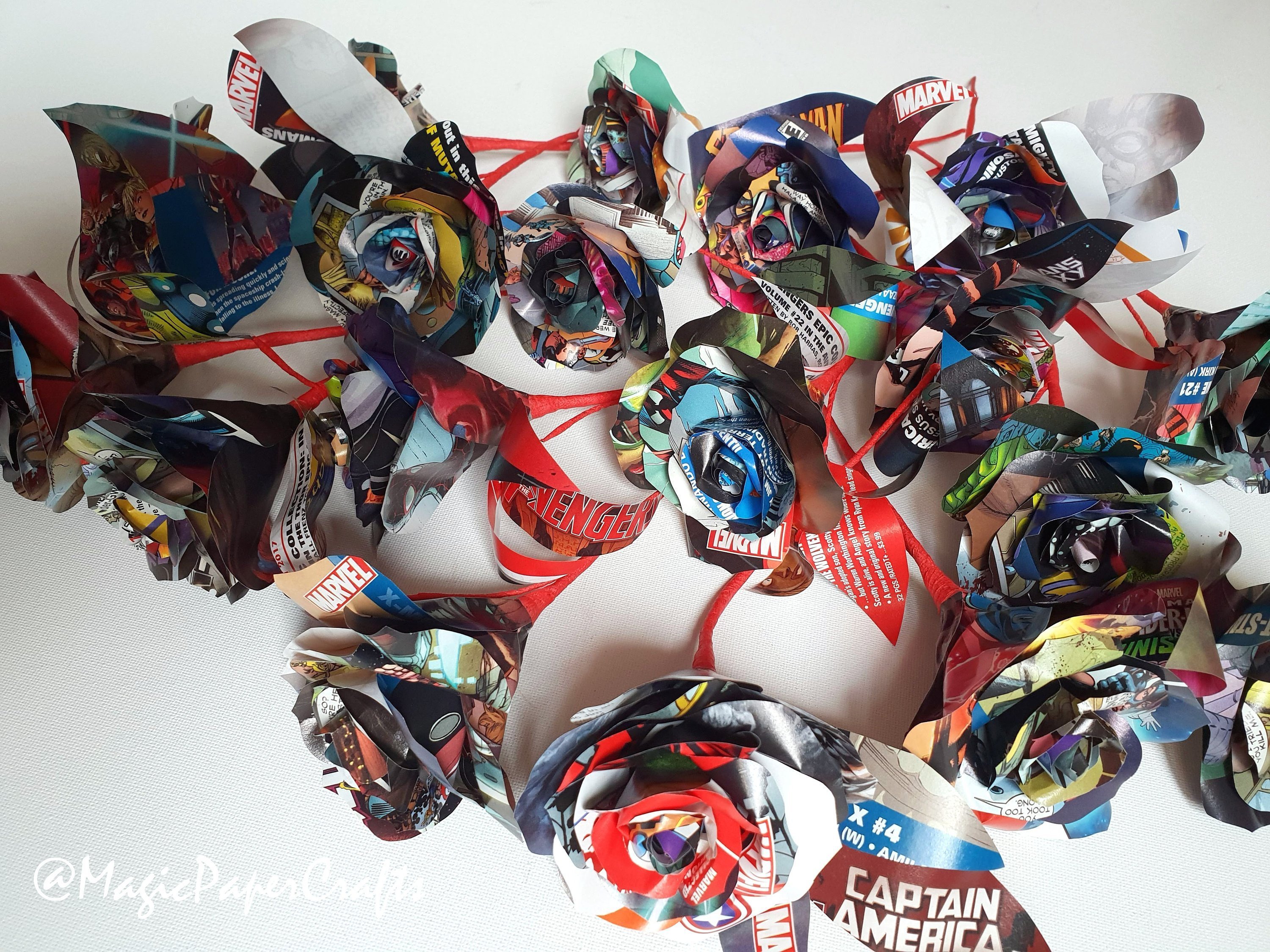 Comic book flowers by MagicPaperCrafts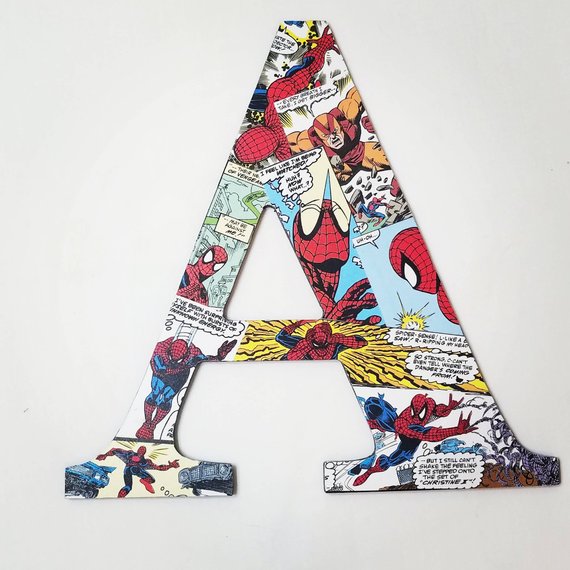 Custom comic letters by WhimsicalWerks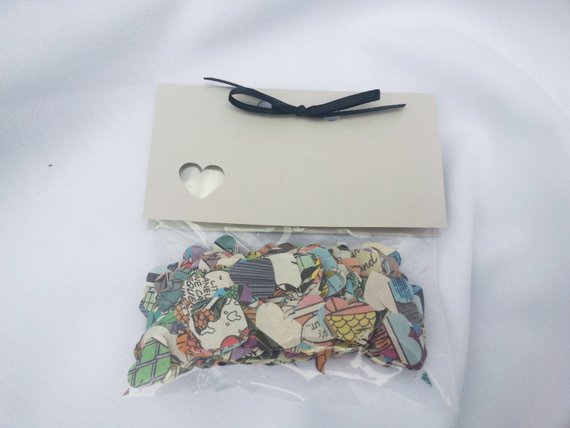 Comic confetti by FanCraftedDesigns
ENTERTAINMENT
Investing in some out-of-the-box entertainment options will bring your superhero theme to the next level. For instance, you can emphasize your theme's cartoonish feel by hiring an artist or cartoonist to draw caricatures of your guests. Even better, have your caricaturist put your guests' faces on superhero bodies. It'll make for an entertaining and creative favor that your friends and family can enjoy for years to come.
Another idea is to make superhero costumes part of your party's dress code, especially if your mitzvah is around Halloween time. Imagine your guests masquerading as their favorite superhero (or maybe even villain), donning bat and spider suits instead of gowns and tuxes. It'll make for incredible photos, and maintain a wildly fun and energetic atmosphere throughout the duration of your celebration.
Not up for dressing up? Have someone else do it! Hire actors to parade as your teen's favorite hero, sidekick, or bad guy. Then, have your costumed character stroll around your cocktail hour for photo ops and in-character banter that'll delight your guests—especially the younger ones. Inviting these characters to the festivities will knock your party out of the park. If they're in line with your vision and budget, definitely invest.
Bonus idea—face painting! It's a fun, simple way to bring your theme to life without anyone having to dress up. Hire an artist to paint your younger guests' faces (though the adults are welcome to partake, too!) with their favorite heroes' masks or symbols. The same can be done with airbrush tattoos. Either way, we know your friends and family will get a kick out of a custom comic face or body art station.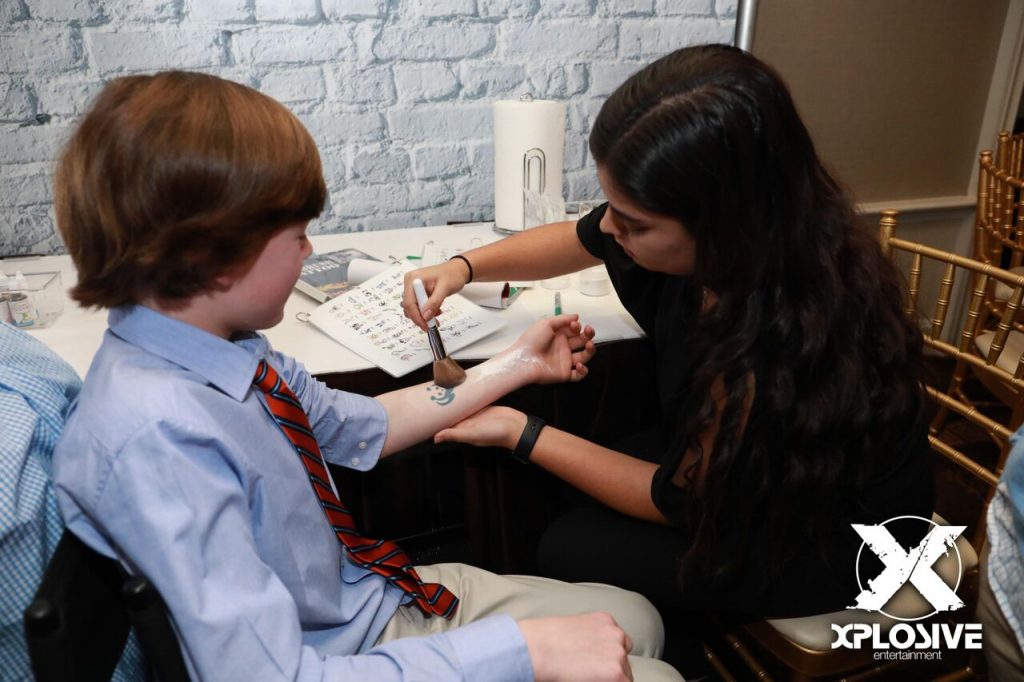 FAVORS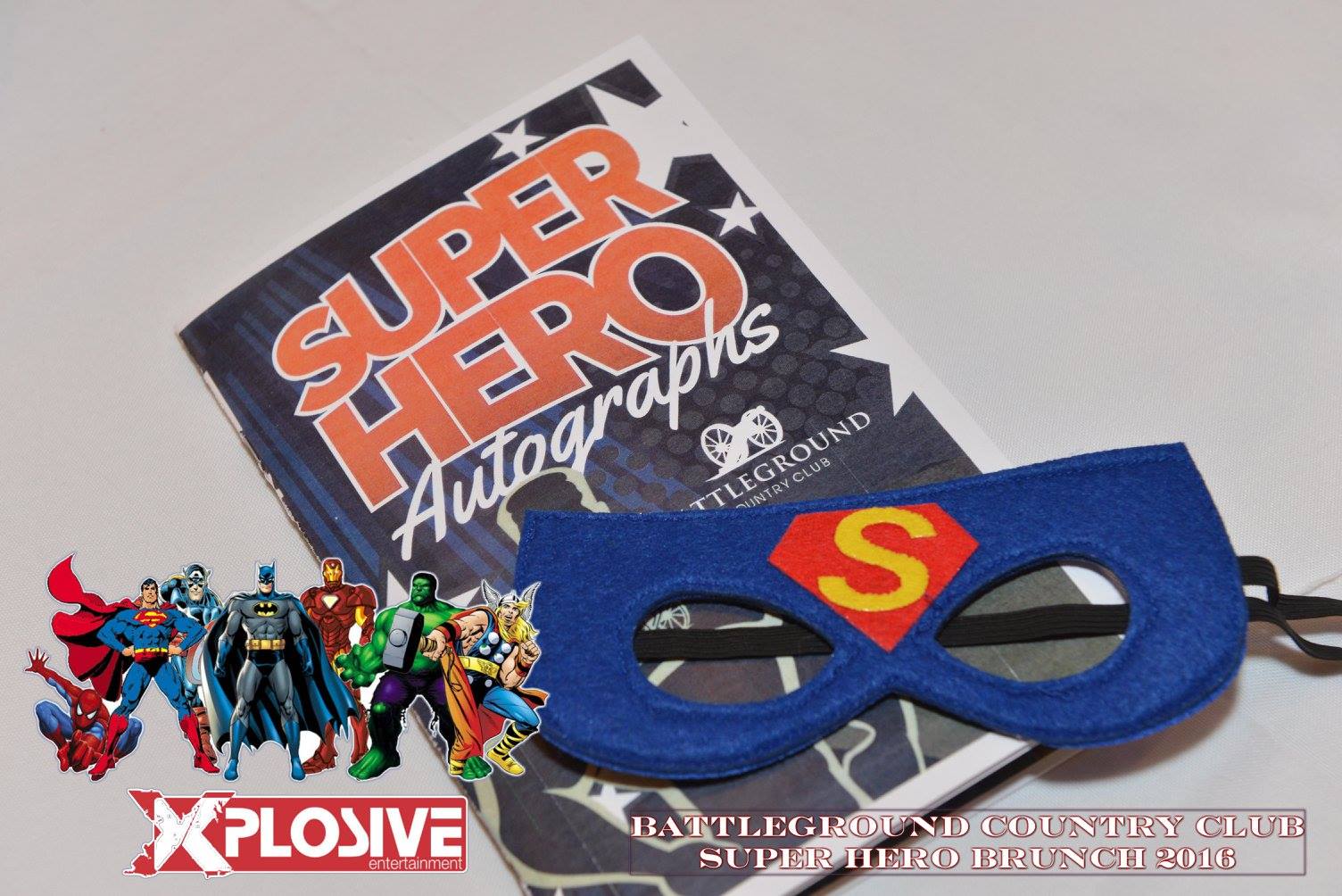 You'll really drive your superhero theme home with carefully crafted party favors. A great first option is superhero masks. Whether you cut and fold them from cardboard, buy them in bulk from a party store, or order them custom for each individual guest, masks will delight and amuse your guests while also protecting their secret identities. Get them in a variety of colors—remember your scheme!—or model them after an existing hero's. You can even find officially licensed masks that perfectly match Batman's cowl or Spider-man's hood at most party shops. Having trouble finding what you need in-store? The internet is sure to provide!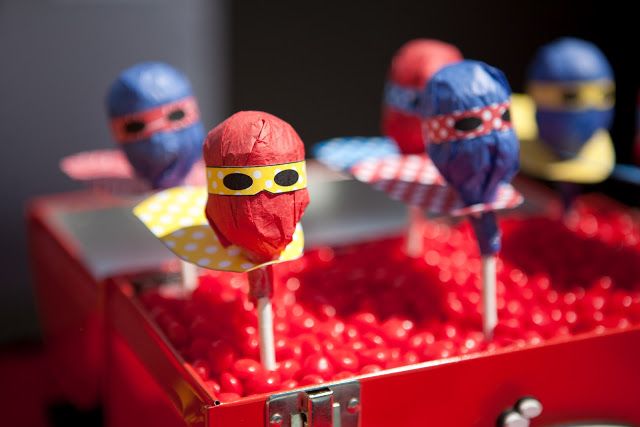 Maybe you'd like to give away something edible for your guests to enjoy instead. Fun foods like giant lollipops or chocolate dipped pretzel sticks can be dressed up with miniature 'capes'. Not only are they adorable, but they'll fit your theme and budget nicely. Go a step further and stamp your treats with your logo—either custom or your favorite hero's. Colored cellophane wrap and ribbon also make a huge difference, so don't skimp on those particular details.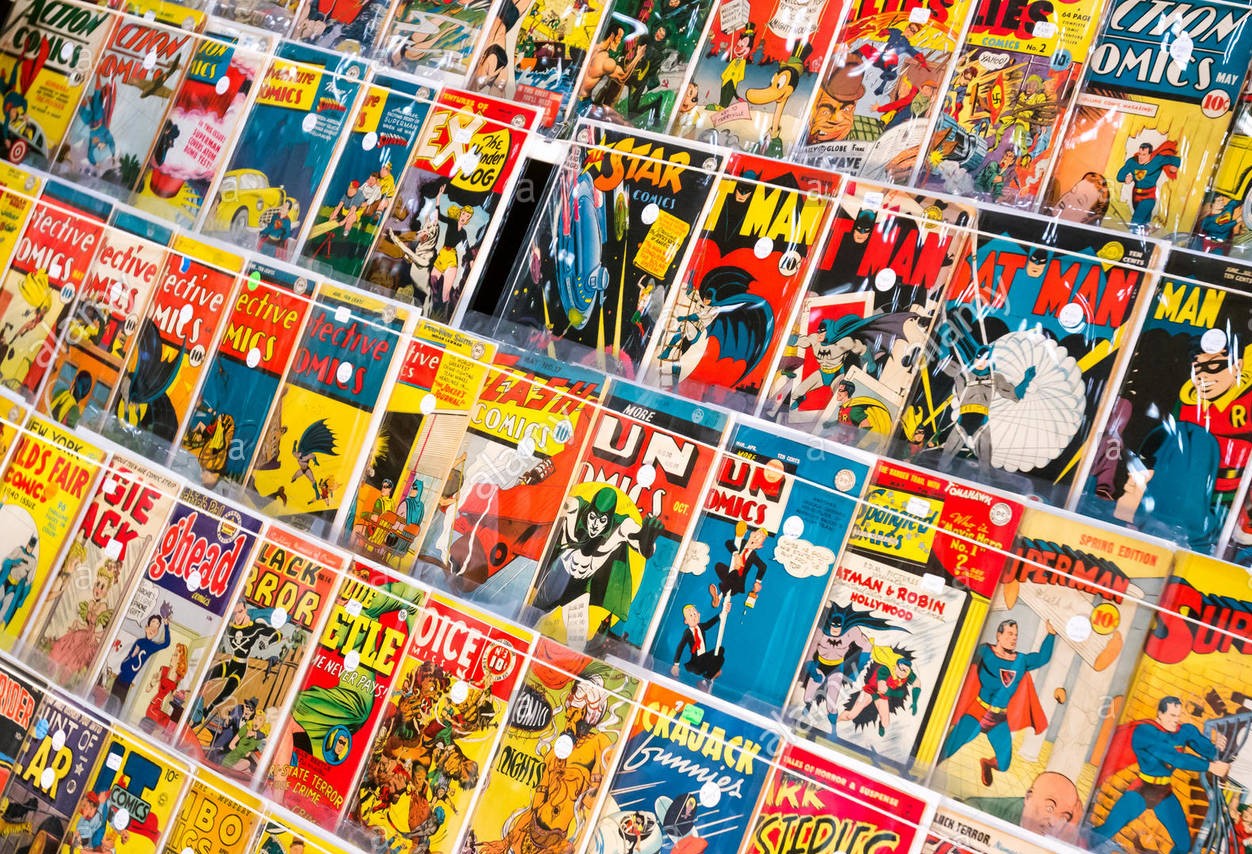 Lastly, consider giving away actual comic books at your party. Does your child have a favorite story involving a certain hero? Or, is there a comic book that compliments the plot of a popular superhero movie? Head to your local comic shop and talk to an expert. They'll be able to help you pick out an age-appropriate issue (or variety of issues) that your friends and family will enjoy, even if they've never picked up a comic in their life. Who knows, you might turn someone on to a new, beloved hobby!
This blog was written by Xplosive Entertainment, a boutique inspired signature style event firm based in Manalapan, New Jersey. Xplosive Entertainment has been a leader in the private events industry for the last thirteen years. For more information, visit our website or call today.