A staggering fact is that most podcasters stop after their 6th episode.  Well, thats not the case for Xplosive Entertainment's very own, Mastering Mitzvahs Podcast.  Earlier this month Jordan, Dylan and Mike released episode 100!  This (nearly) weekly podcast offers tips, tricks and trends for families planning bar and bat mitzvahs.  Each episode is roughly 30 minutes long and features a plethora of great suggestions to help save money, stand out and properly execute this rite of passage celebration.
Prior episodes have featured guests including venue operators, photographers, event planners, past clients and even other DJ companies.  Topics discussed have ranged from music volume, to party themes to 4 vs 5 hour celebrations and much more.  "This 100th recording was a fun episode", says Dylan Weisman, partner at Xplosive.  "We played a live digital game with a wheel of questions.  We virtually spun the wheel.  It landed on a topic and each of the Mastering Mitzvah hosts had an opportunity to free flow their thoughts and ideas for 100 seconds about that topic."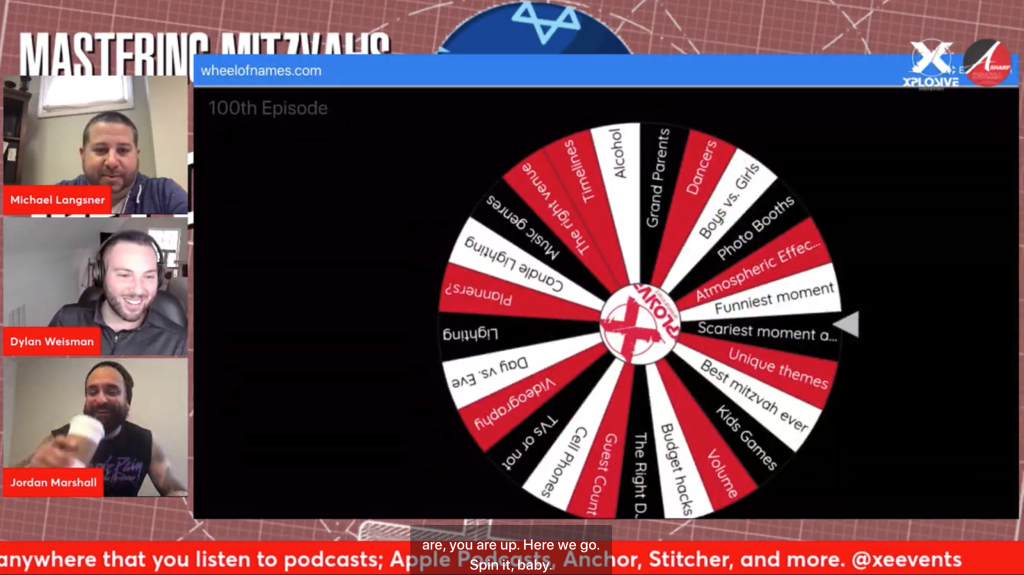 "We knew we wanted to do something a little different for this episode," said Jordan Marshall, founder of Xplosive Entertainment. "This gave us an opportunity to really show our audience how we think on our toes.  It showed our ability to intelligently and creatively discuss all things bar/bat mitzvah and it even showcased some of our virtual event abilities we picked up during the pandemic lock down."
We are proud of the 100th episode accomplishment and we have no intention of stopping anytime soon!  Some of our favorite episodes are what we call "weekend recaps" where we chat about the events the three of us experienced only days prior.  We openly discuss the highlights and any lowlights of the celebration with the hopes of learning from each other, sharing this knowledge with others in the industry and mostly helping our beloved clients plan the celebration of a lifetime while avoiding struggles and any pitfalls.
We love and appreciate everyone who has taken the time to tune in, listen and even participate in the Mastering Mitzvahs Podcast.
Mastering Mitzvahs can be be found at these sites:
APPLE:  https://podcasts.apple.com/us/podcast/mastering-mitzvahs/id1455234397
SPOTIFY: https://open.spotify.com/show/5VKk7cj20OGN5M1NixOOZF