It's not every day that our team drives 7 hours to perform at a wedding, but when we do, we know we are in for a great celebration. Why? Well… if a couple understands (and values) entertainment enough to scout out the "perfect fitting DJ" from several states away and we at Xplosive are hired, we know the couple has a vision of an epic party!
This past weekend (writing this blog Aug 2022), myself and colleague, Jaymie Perez took on the road trip to Stowe, Vermont from Central, NJ and arrived to meet (for the first time in-person) the happy couple one night before the big day. We were greeted with hugs and excitement, as if we were long lost friends. After some bonding it was time to get back to the hotel, put finishing touches on the music prep and get some shuteye before the next day.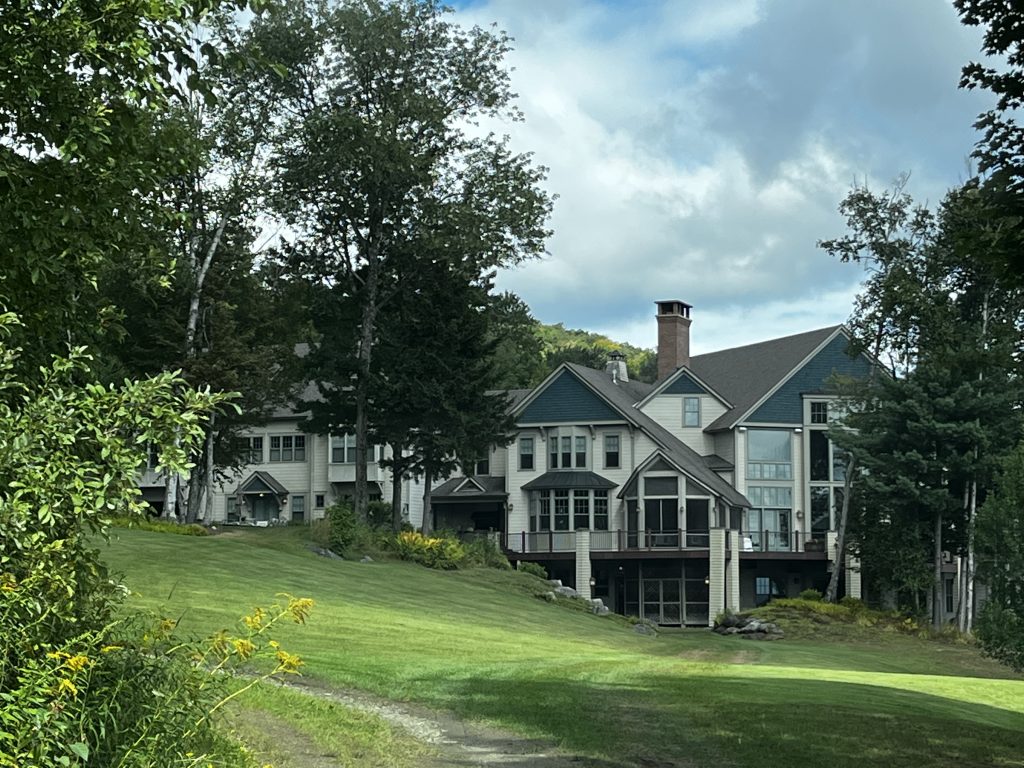 The title of this blog is "backyard weddings done right" for a reason. Let me describe the setting first. (Note, this home was a successful family friend of our couple). We followed our GPS up a long, winding, dirt road. After climbing several thousand feet, we turned right at a sign for number 377 then continued on the rocky path. We knew this was going to be a large home with a big property, but what we found upon arrival was nothing short of spectacular. This 14,000 square foot estate sat on nearly 150 acres of Vermont hills and greenery. There were no a signs of civilization in sight. All we saw, looking past this home, were views for miles of mountains, trees, and grass. The home was a dream location offering ample parking and a large flat area for the clear top tent (which was approximately a 40 wide by 120 feet long tent. The home also featured an amazing great room with views of the expansive landscape and allowed for the seating of the 120 guests for the ceremony. Following the ceremony, the guests made their way to the lower level of the home which resembled the coolest bar setting you could imagine (complete with games, seating, indoor/outdoor space and topped with the most perfect fresh air breeze). The caterer passed hot appetizers prepared in the home's kitchen.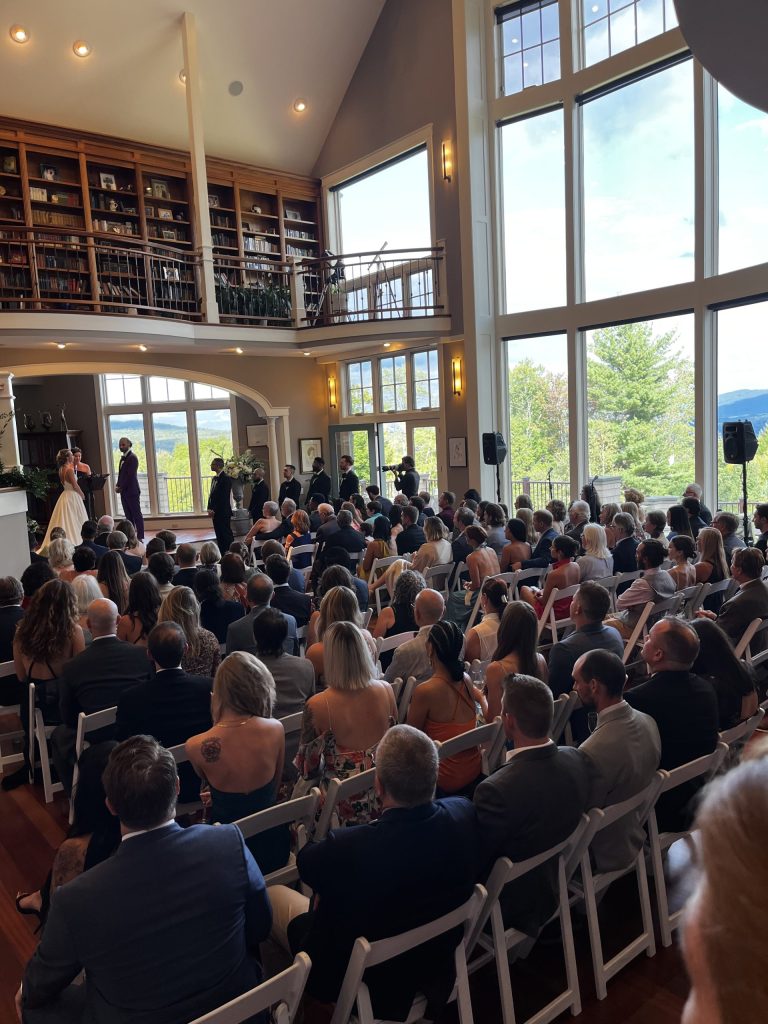 While this specific home could give most traditional banquet venues a run for their money, the truth is, a well thought out space in an adequate yard can make for a really amazing setting. There are, however, a few other important items to consider. In this case, we were fortunate to work with a great wedding planner, Nancy Jeffries-Dwyer. Nancy was a liaison between all the vendors, the home owner and the couple. Nancy ensured we had enough electricity to power the tent's lighting and our DJ needs. She contracted a portable bathroom trailer for easy rest room access by the tent. She also ensured there was ample lighting between the various spaces.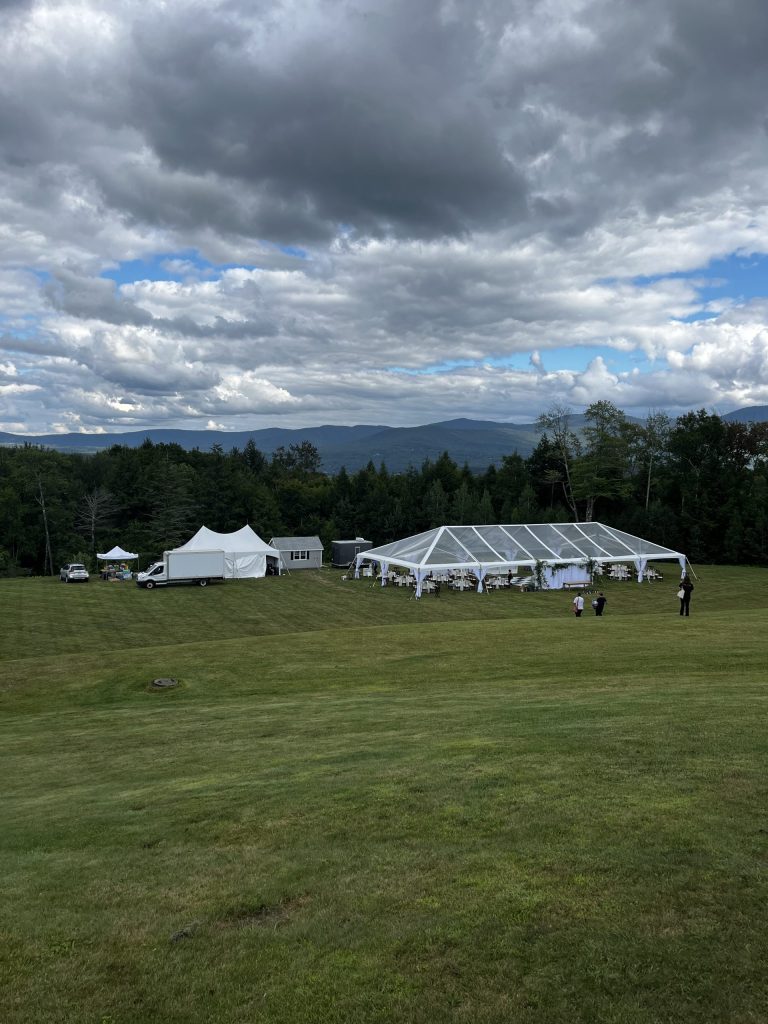 This party was the prime example showing the value of working with an experienced team. Nancy and her staff flawlessly executed a picture perfect wedding which had possibilities for disaster if it was not properly managed. Most importantly, the newlyweds, Emily and Alessandro, had the night of their lives within a spectacular, unique and stress free environment.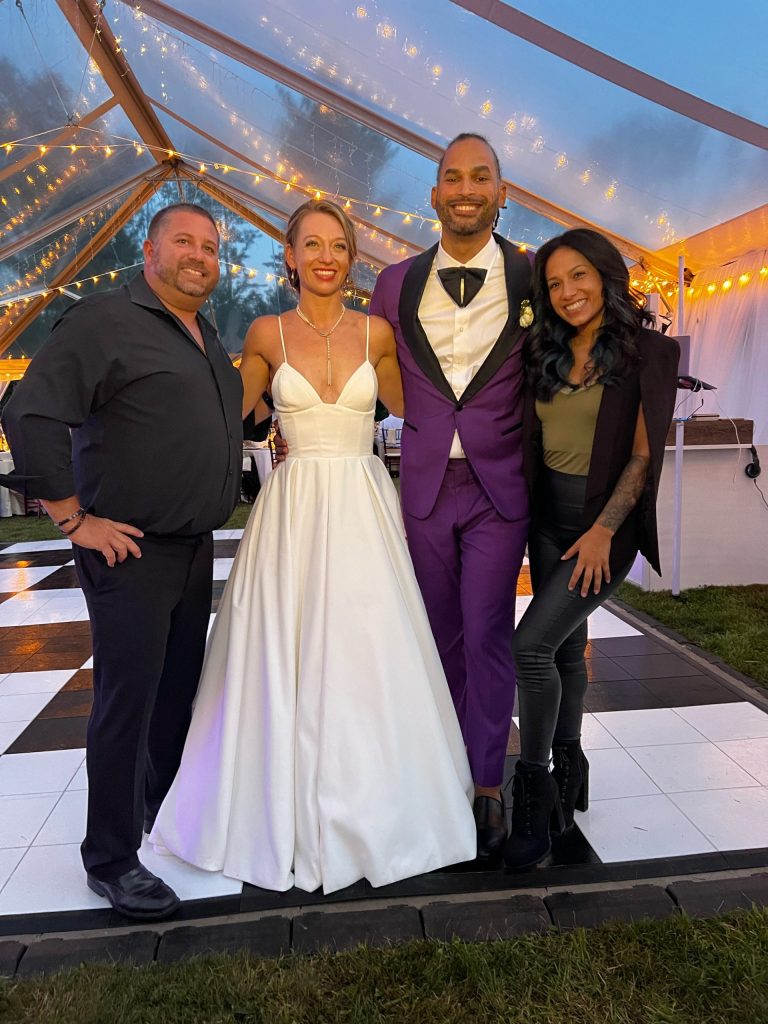 Prepared by:
Michael Langsner
DJ and Partner at New Jersey based Xplosive Entertainment
www.XEevents.com